This website may contain affiliate links and advertising so that we can provide recipes to you. Read my privacy policy.
Using an Instant Pot to cook your sweet potatoes is the best! They turn out perfectly sweet, creamy, and soft in half the time it takes to bake them!
My Instant Pot and air fryer are two workhorses in my kitchen. They've simplified dinner so much! Add this Instant Pot spaghetti, mashed potatoes, or meatloaf to your dinner lineup! You won't regret it! Instant Pot recipes are always so quick and easy to make but turn out perfectly.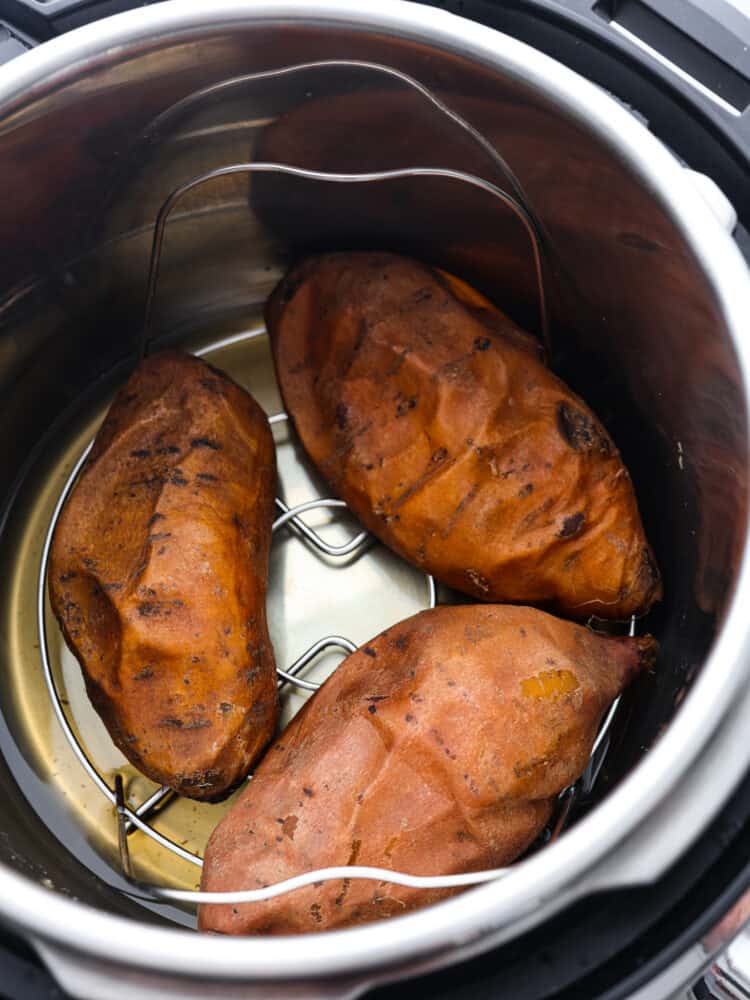 Soft and Tender Instant Pot Sweet Potatoes
I love baked sweet potatoes, especially around the holidays! The only problem is, with the hour-long bake time, it doesn't really work if you're in a pinch. The Instant Pot saves the day, yet again! With this beyond-easy recipe, you can have soft and tender sweet potatoes ready in less than 30 minutes.
You're going to be amazed at how soft, moist, and silky smooth they turn out. You can serve them with both sweet and savory toppings! (I have some ideas for you below!) You can also mash your Instant Pot sweet potatoes to use in a casserole! This is definitely a staple recipe to have around. If your family loves sweet potato dishes as much as mine does, it will especially come in handy with Thanksgiving just around the corner!
Ingredients You'll Need
Only 2 simple ingredients are needed to make these amazing Instant Pot sweet potatoes! This recipe is the perfect foundation for all of your favorite sweet potato dishes! You can find exact measurements needed to make it below in the recipe card.
Sweet Potatoes: The size of your sweet potatoes affects cooking time, so if you want to follow my recipe 1:1 try to find medium-sized sweet potatoes! You may need to adjust the cooking time by a few minutes if your sweet potatoes are larger or smaller. You can also use jewel yams.
Water: Water is added to the base of the Instant Pot to add moisture to your sweet potatoes as they cook! This is a must for sweet potatoes that are soft and moist instead of dry and tough.
How to Cook Sweet Potatoes in an Instant Pot
This recipe is foolproof and SO easy to make! I love how hands-off it is. It makes preparing dinner so easy.
Prep Sweet Potatoes: Wash the sweet potatoes well, and prick each potato about 4 times with a fork.
Add Trivet and Water to Instant Pot: Place the trivet in the bottom of the instant pot, then pour 1 cup of water into the pot.
Add Sweet Potatoes: Add the whole sweet potatoes to the pot and place them on top of the trivet. It's ok to stack the potatoes if needed.
Seal: Place the lid on the Instant Pot, then set the valve to 'seal'.
Cook: Select the manual/high pressure button. Adjust the time depending on the size of your sweet potatoes. Small potatoes= 15 minutes, medium potatoes= 25 minutes, and large potatoes= 50 minutes.
Release Pressure: Allow the pressure to naturally release for 10 minutes before releasing the rest of the pressure.
Add Cooking Time if Needed: If your sweet potatoes are not soft enough, place the lid back on the Instant Pot and add an additional 5-10 minutes. 
Serve: Enjoy your sweet potatoes to your liking! I love to cook my sweet potatoes ahead of time to enjoy throughout the week, or to use in my sweet potato casserole.