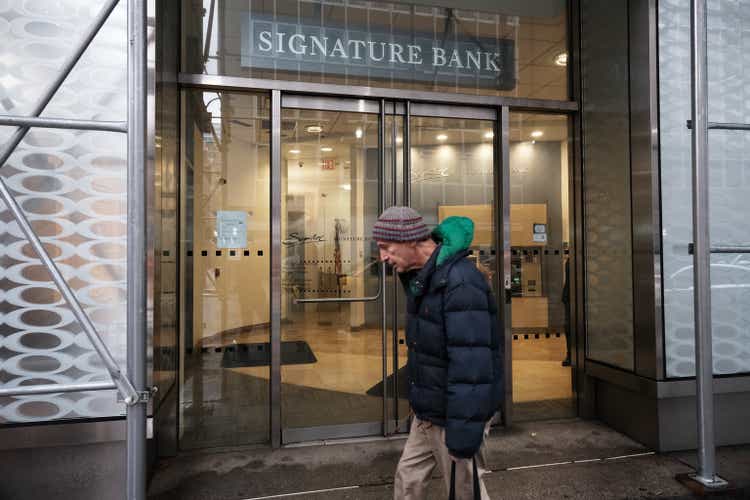 New York Community Bancorp. (NYSE:NYCB) is pursuing an acquisition of failed lender Signature Bank (NASDAQ:SBNY).
The Federal Deposit Insurance Corp. may announce a deal for Signature Bank (SBNY) as soon as this week, according to a Bloomberg report, which cited people familiar. No final decision by New York Community (NYCB) has been made and talks could fail materialize a deal.
The news comes after a Financial Times report on Friday that the FDIC is open to discuss shouldering losses at failed lenders Silicon Valley Bank (SIVB) and Signature Bank (SBNY). The agency's willingness for a loss-sharing deal comes a week after it ruled out any such arrangement when it attempted and failed to auction off SVB (SIVB) last weekend.
A sale of either bank would require the new buyer to mark the price of certain assets to fair value, in a move that could potentially trigger immediate losses, the FT said. The FDIC has not given bidders any signal on the size of losses it would be considering to backstop.
New York state's Department of Financial Services took possession of Signature Bank (SBNY) last Sunday to protect depositors.
The New York Community Bank (NYCB) report also comes after Bloomberg reported Sunday that Federal Deposit Insurance Corp. is moving toward a breakup of Silicon Valley Bank after it was unable to find a suitor for the entire company.
Bloomberg reported on Saturday that First Citizens BancShares (FCNCA) was said to be considering an offer for Silicon Valley Bank.