The iPhone 14 series is about to start shipping to early buyers (three of the four go on sale tomorrow) and while they don't look too different on the outside, there are some important changes inside. This disassembly video from PBKreviews offers a glimpse at the internals of the iPhone 14 Pro Max.
The good news is that the phone is relatively easy to repair, at least some components are. Since this is a US model, there is no card tray for a physical SIM. This means that the first thing to come off the phone is the display.
There is a metal plate that helps keep the various cables firmly attached to the two-layer motherboard and also acts as a heat spreader. After that is gone, one can start disconnecting the screen and the battery too (the battery is marked 16.93Wh, by the way). So these two common repairs are easily done, though that doesn't mean they are cheap.
Getting to the cameras does require digging out a few more components. One interesting thing to come out of the video is that it seems that the new front-facing camera has OIS (you can see it at the 3:40 mark). Apple added autofocus for the first time, but it made no mention of optical stabilization, the official specs only says "Auto image stabilization". This is something worth investigating.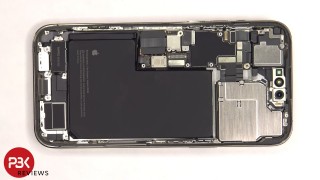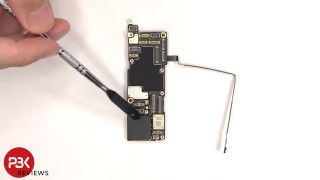 The screen and battery come off easily enough • The satellite module?
Another interesting development is a mysterious new component – it is presumably part of the new SOS over satellite functionality and it takes up quite a bit of space on the motherboard. Considering that the iPhone 14 Pro Max is basically the same size as the 13 Pro Max, Apple had to put in a lot of work to get everything to fit.