Top Lead Generation Practices To Implement On Your eLearning Website
Visitors come and go in search engines, jumping from one page to the next to find what they need. In the meantime, business owners are also there pitching their solutions and trying to grab the market's attention. However, many fail to wonder: "Is my website ready to accept a visitor? Can I make them into customers?" That is where a lead generation website comes into play.
In the wild arena of the modern internet, you can find multiple types of lead generation websites. Since they are part of an overall marketing strategy, these pages align with the specific goals of a business. The purpose of the pages remains the same, though. They aim to qualify the leads and help visitors convert.
Before we jump into the best practices, it is important to understand what a lead generation website is.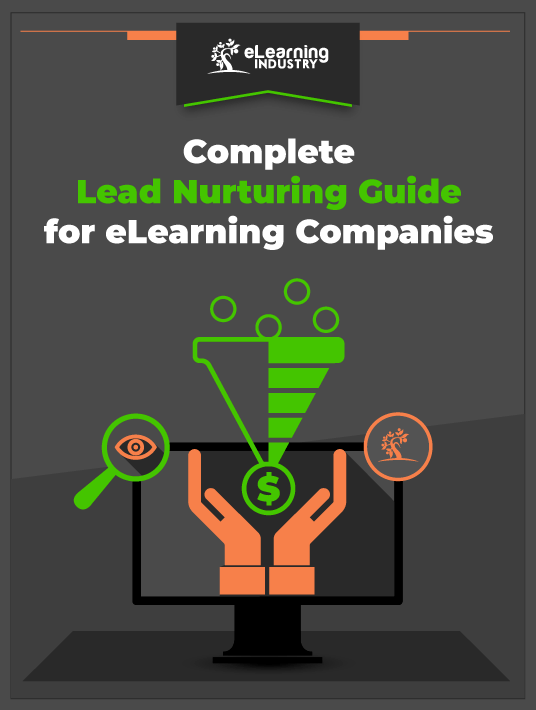 eBook Release
Lead Nurturing Guide For eLearning Companies
Learn how to generate and nurture qualified leads in the eLearning industry.
What Is A Lead Generation Website?
In simple terms, a lead generation website is the optimized place in which the visitors will convert to qualified leads. It is a nonstop working engine that provides valuable information about your market and assists all your revenue streams. Needless to say that building such a website for the eLearning niche requires a solid research foundation, an understanding of your audience, and an optimized implementation.
In a nutshell, a lead generation website should:
One of the most important goals of a lead website is to educate interested visitors in a specific industry. In our case, the eLearning industry. This can be achieved in multiple informational ways, like blogs and gated assets. For example, on our website, you can find eLearning articles, eBooks, and webinars. Gated assets are more valuable at this point since they are the gateway to understanding your target audience while providing value to them.
Isn't it frustrating to enter a big store and not be able to find the items you want? Your visitors feel that same frustration if you do not guide them toward conversion. It is critical to pave their way with information and guidelines to help them become your leads. This is a win-win situation for both you and your audience since they find the solution they seek and you provide your service. In terms of website building, the guidance should be clear towards a specific call-to-action button, which will mark the conversion.
You have made all the necessary changes to educate and guide your visitors. Splendid job! Now it is time to harvest the fruits of your hard efforts. How? By converting your visitors into qualified leads. A well-established lead generation website is able to generate leads 24/7. Of course, that does not exclude further optimization. You should always keep an eye out for errors or underperforming areas in the process and fix them as soon as possible.
Now that we have defined the lead generation website, let's jump into some fruitful practices to build one for your eLearning business.
8 Steps To Create The Optimal Lead Generation Website For Your eLearning Business
As happens in a handful of business aspects, there is no manual that guarantees the success of a lead generation website, especially in the eLearning niche. Since every business has unique perks, goals, requirements, and needs, there should be different ways to build the appropriate lead generation website. For the purposes of this article, we will take an eLearning business as an example and present the 8 important steps to follow.
1. Build An SEO-Friendly Website
There is no doubt about the power of search engines. Globally, there are 8.5 billion searches per day on Google alone. There is no way you want to miss out on this opportunity. After all, before you educate and guide your visitors, they have to find you, right? Let's discover some ways to build an SEO-friendly website for your business:
Keywords are vital requirements for solid SEO performance. They are the bricks and stones of generating organic traffic. This means that your website should be aligned with important industry-related keywords that will help you rank high in search engines. Therefore, consider doing keyword research to kick off the process. Then, you may proceed to an SEO competitor analysis to find keyword opportunities that may work for your eLearning business as well. Lastly, make sure that you implement your data on every possible page of your website.
Links are the connection of dots in the chaotic internet space. As the term suggests, they link pages either internally or externally. In terms of link building, external links are valuable to increase both the Domain Authority (or Rating) of your website and your rankings. On the other end, internal links will help you create a map that will guide your users through multiple pages of your website.
Interested in learning more about link building? Feel free to check out our article on link building strategies for eLearning businesses.
The last but equally important step to building an SEO-friendly lead generation website is to ensure that its technical aspects support SEO. In simple terms, make the life of engine crawlers and your visitors easy during their journey on your website. The most effective way to achieve this is by running a technical SEO audit to spectate the technicalities of your website. Some of the most vital metrics you can check are the load speed, picture size, and any type of errors on pages.
2. Make It Buyer Persona-Centric
Buyer personas are the reflections of your customers. They include every bit of information about your ideal target market. From demographics to hobbies and from needs to frustrations, all this data can help you build a website tailored to your target audience. This will ensure that you are talking to the right people with the right tone at the right moment, offering the right service!
Some of the questions that buyer personas answer are:
Who is my customer?
What problems are they facing?
What solutions are they looking for?
What are their frustrations with similar products?
Implementing the above-mentioned data can help you build a lead generation website that promises to keep your sales team happy and your funnel active.
3. Tailor Conversion Opportunities To The Buyer's Journey
Visitors do not always arrive on your website from the first step of the buyer's journey. They may enter from several different stages of the funnel. In this case, you should be ready to address their different needs in every phase. Is your visitor in the first stage? Offer an "Ask us" form. Are they considering buying? Provide them with a free gated asset or a newsletter subscription form. In any scenario, you should have your prospect satisfied and be ready for every situation they might encounter by offering multiple lead generation forms.
4. Provide A Valuable Gated Asset
Trade has been a companion to human development since early civilization. There are multiple reasons for it to not be excluded from your lead generation strategy. You should consider offering downloadable content in exchange for valuable customer information like names, job titles, and email addresses.
Some solid examples of gated assets that we often witness in eLearning businesses are the following:
eBooks
White papers
Webinars
Case studies
Free trials
All the above-mentioned data will fuel your future marketing efforts with targeting opportunities. Ensure that you store it in your database and nurture properly for an optimized process that promises high results.
For more information on lead generation and successful content marketing, make sure to take a look at these articles:
5 Amazing eBook Ideas For Successful Lead Generation In The eLearning Niche
Cold Vs. Warm Vs. Hot Leads: How To Attract And Close eLearning Leads
Smart Ways To Convert Leads Through eBooks By Targeting Corporate Training Buyers
How To Write An eBook For The eLearning Niche Market
8 Reasons To Use Webinar Marketing To Generate Qualified Leads For Your eLearning Business
5. Implement Filling Forms
A filling form is the compass of a lead generation page. It is the connection between you and your target audience. Therefore, you may want to optimize your filling forms for more effective lead acquisition and higher conversion rate.
In general, forms (or lead gen forms) are the ones your visitors fill out in exchange for a service. Such services can be contact, downloadable content, gated assets, or a purchase of your solutions. In any of these scenarios, you need to acquire only the necessary information for your campaigns and your lead nurturing. Needless to say that they have to be appealing, eye-catching, and people-centric. Some of the most common forms should at least include:
Name
Job title
Email address (or business email address for B2B)
Of course, the information varies depending on your goals and marketing strategy. Therefore, make sure that you implement your filling forms accordingly.
6. Make CTAs Clear And Creative
CTAs have the potential to become valuable assets in your lead generation website if used properly. By that, we mean for them to address both the audience needs and your company goals while being appealing and creative. Sounds hard? Well, it is not. If you know what your lead gen goals are and where the prospect lead is in the buyer's journey, then you can figure out what CTA works best.
Let's assume that you want your leads to book a call with your team. You have already guided them properly with informative content and reached the CTA. Now is your time to shine! Instead of using a generic CTA like "Book a call," consider using "Get in touch" or "Schedule a meeting with our team!" By being creative in CTAs, you can manage to stand out from the crowd and grab the valuable attention of your prospects, which eventually results in more leads!
7. Avoid Being Salesy
Does anyone like being addressed as a customer? We certainly do not. In general, people tend to avoid salesy content. That is because it usually highlights the service and not the needs of visitors. People care more about a solution to their problems than the benefits of your product. Keeping that in mind, you should consider making your lead generation website more people-oriented. You can achieve this by adding informative content that does the following:
Explain the problem
Address the seriousness of the problem
Explain the possible solutions to the problem
Start presenting your solution as a possible one among many
Let the prospect judge and decide
By following these steps, your visitors are less likely to drop off your marketing funnels because you are speaking "their language." Moreover, inform them and let them decide what is the better fit. At the end of the day, their gratitude can be expressed with a valuable conversion.
8. Research, Test, Optimize
Even though we stated that a lead generation website is an engine that works 24/7, this does not mean that you should sit back and relax. In the internet sphere, everything moves faster than usual and change is not an exception to the rule. In such a rapidly changing world, you should be future-proof and ready to adapt by optimizing your lead generation website. Keep researching your industry, test the performance of your website and optimize the processes for a long run of success.
For more information on optimization, make sure to read these:
8 Insider Tips To Create SEO-Optimized eLearning Courses For More Sign-Ups
How To Measure And Monitor Your Content Marketing Performance
Landing Page Optimization Best Practices: Tips And Tools To Make It Work
What Is Conversion Rate Optimization? A Beginner's Guide For eLearning Companies
Why Is Internal Linking For SEO Important For An eLearning Website?
Want To Improve Your eLearning Lead Generation?
Discover our inbound marketing lead generation strategies and reach your target buyers in the eLearning niche.
Key Takeaway
Using a lead generation website as the digital brochure of your eLearning business can turn out to be fruitful. If optimized properly, it can help you stand out and build trust in your target audience.
By following the practices mentioned in this article, you can ensure that your website focuses on people. Be there to understand their problems, educate them, and guide them through their buyer's journey. In the end, this trusting relationship will eventually lead to a win-win situation for both parties. They get their solution, you get the lead.
Curious to learn more about lead generation in the eLearning industry? Feel free to check out more information in our other lead generation articles!