TEAM REPRESENTATIVES 
Part One: Franz TOST (AlphaTauri), Jost CAPITO (Williams), Otmar SZAFNAUER (Alpine)
Q: Otmar, perhaps we could start with you please. First up, please can we get your reaction to yesterday's news from the Contract Recognition Board?
Otmar SZAFNAUER: Well, we want to thank the Contract Recognition Board first and foremost for convening and listening to both sides of the argument. They did a thorough and competent job and the process works. And we accept their decision. Apart from that, the rest of it, by Concorde Agreement, is confidential. So, all the pleadings are meant to be held confidential and I will abide by that confidentiality and not talk further about pleadings on both sides. 
Q: You say you accept their decision – but were you surprised by their decision?
OS: Well, going into it, I didn't know all the arguments on the other side. Thereafter, I mean, it took four days, as everybody knows. You know, there are good arguments on both sides and walking out, I thought it was about 50-50. As it turned out, they didn't rule in our favour. So after, no, I would have accepted either way.
Q: Will Oscar Piastri remain an Alpine employee until the end of this year? 
OS: While he's with us this weekend, doing simulator work, and that will be decided on… he'll continue this weekend. There's only a couple days left, today and rain tomorrow, and then on Monday, we'll get together with him and decide how to go forward.
Q: Would you consider an early release to McLaren? 
OS: We'll decide on Monday. I don't want to think about it here because there's more considerations to be had.
Q: So, you now need a new driver in 2023. What type of a driver are you looking for? To place alongside Esteban Ocon? 
OS: I think we're fortunate that we have great demand for our seat. So, we're going to take a bit of time and, and consider, but you know, it's like anyone: you want the fastest driver that you can get, one with experience, consistency and speed. So, we will be looking at who's available to fulfil that role.
Q: Jost, we'll come to you now. And while we're talking about Oscar Piastri, did you talk to him about a seat in 2023? 
Jost CAPITO: We talked to a couple of drivers for '23, so we had a couple of options. And of course, Oscar could have been an option. But that was an early stage of the season, just to check out what kind of options are available for '23.
Q: And where does this leave Nicholas Latifi? What does he need to do to retain his seat at Williams next year? 
JC: That's within us. And I don't disclose that here.
Q: But what would you like to see him do in terms of… do you want to see greater consistency? Or can you give us any insight into the direction of travel for him? 
JC: I think he has to show his potential. I believe he has the potential. What he's shown from Silverstone and Hungary. It was great there, last week wasn't that good, so he's got another chance this week to prove what he's capable of.
Q: Now talking of last week, Spa was a fantastic performance by Alex Albon. Would you say it was Alex's best drive for you so far? 
JC: Australia was also a fantastic drive this year. So, I think all his races are really good but he said that was one of his best races, and one of the longest – but it was absolutely outstanding what he achieved last weekend.
Q: And what about this weekend? Is it one to be got through and you kind of have half an eye on Monza next weekend? Do you think that will suit the car better than Zandvoort? 
JC: Yeah, definitely. So, Zandvoort, it's just gets through it, and try the very best – but without big hopes.
Q: Franz, we'll come to you now, and while we're talking drivers, in Canada, you told us that Pierre Gasly would definitely be an AlphaTauri driver in 2023. Is that still the case? 
Franz TOST: Yes, he has a contract with Scuderia AlphaTauri.
Q: Would you release him to another team? 
FT: This decision from Red Bull.
Q: So, as things stand, it's Gasly and Tsunoda for you in 2023?
FT: At this moment, yes.
Q: Why don't we talk about the car then Franz. It's been a season of fluctuating fortunes for you. How would you describe the performance of your car? Why is it so up and down? 
FT: We are struggling on tracks with mid-speed corners, like Budapest, like here in Zandvoort, where the car is too unstable under braking and under steering in the apex, wash-out understeering and therefore the lap-time is not coming together. The car is much better in high-speed corners, like it was in Spa and hopefully it will be in Monza and I hope that the engineers will find a reasonably good set-up that at least one car is in Qualifying Three today.
QUESTIONS FROM THE FLOOR
Q: (Scott Mitchell – The Race) Otmar, when it came to announcing Oscar initially as a driver for 2023, Oscar says that you and the team were aware of his intentions way before then. He said that he had spoken to you, reminded you of what he wanted to do. So why did you continue to go down that path? Because Oscar says that that denied him the chance to basically leave the team the way he wanted and not say goodbye? 
OS: Well, at that point, we're having discussions with Oscar. And we were under the impression that the contractual arrangements we had with Oscar were valid. We didn't have the CRB yet, so that's a reason for it. 
Q: (Luke Smith – Autosport) Otmar, following up on that, Oscar has spoken about the announcement. You spoke last week about when you told him in the simulator, he's talking about that now and said that he found it quite upsetting that it was done publicly, called it bizarre episode. A lot has been made of Oscar's alleged lack of loyalty to Alpine – but where was Alpine's loyalty to Oscar? 
OS: Our loyalty to Oscar was… we had something called the Heads of Terms and we delivered everything above and beyond what we said we're going to do, including 3500 km in last year's car, making him our reserve driver. When McLaren and Mercedes asked if we could share him as a reserve, because they didn't have one, we allowed him to do that. We paid him. That's our loyalty to Oscar.
Q: (Julien Billotte – AutoHebdo) A question to Otmar again, please. How can an F1 constructor like Alpine managed to lose its top driver prospect, to a direct competitor on top of that, 24 hours after losing a superstar – and how bad is it for Alpine's image? Well, I mean, we… Fernando was a free agent, so he was able to negotiate with whomever he wanted, and that that happens. We put a contract in front of Fernando, like I said before, that was negotiated for a while to the point where… you know, a deal's got to be good for both sides. We were happy with as far as we could go on the negotiation, and Fernando chose to do something else and that's understandable. With Oscar, as you know, the CRB ruled that the contract he signed with McLaren took precedence – but we only learned that yesterday.
Q: And the point about the image of Alpine Do you think it's damaging? 
OS: I think the image of Alpine is based on what happens on track and how we perform. And that's what we're focused on now. We'll do the best we can. Not for just this year, but to continue to improve the team. We're on a recruiting drive. We're spending money on tools. We understand what It takes to compete amongst the Top Three. That's our goal, with a goal of winning a World Championship in five years. We've got to put the rudiments in place for that to happen. And we're in the middle of doing that. So, the best thing for Alpine's image is to win on track, and that's what we're going to try to do.
Q: (Adam Cooper – motorsport.com) Question for Otmar. Obviously this July 4th date for the McLaren contract emerged yesterday. Can you clarify when you found out about it? When did Mark or Oscar tell you what was going on? Did you have any direct contact with McLaren? And secondly, at that time, what was the situation with Williams? Was Oscar walking away from a definite offer to go to Williams? Or was all that also up in the air? Was he thinking he was going to have another year on the sidelines if Fernando stayed? 
OS: So as you can imagine, at that point in time, there were some rumours. So, it's not like we were oblivious to it. However, to answer your question, the Fourth of July date was made apparent when we had our submissions to the CRB. So that was a few days ago.
Q: And the Williams situation? 
OS: Well, we had discussions. For sure. And, you know, there were, like Jost said, there were many considerations for them, but we were definitely progressing that. It never came to a conclusion, or fruition. So, it's hard to say but there were discussions.
Q: (Christian Menath – motorsport-magazin.com) Question for Otmar. When you lose out on track, you do an analysis where you're weak. I guess it's the same for any company when they lose,  not only on track, but off track as well. Where would you say is your weakness? Is it the legal department, is it the leadership of the team – because from the wording that is quite clear that not only the McLaren contract is valid, but you didn't even have a contract with Oscar. 
OS: Well, I've been… all this happened in November of last year. So I guess, you know, it's easy to blame people that aren't here anymore. But that's not my style. So, the right thing to do is to have a have a look at what happened, understand where the shortcomings were and fix them for the future.
Q: (Chris Medland – Racer) Another question for Otmar. You didn't, I don't think, fully answer Adam's question about when you were informed from Mark and Oscar's side about the contract with McLaren or the desire to leave. And when you were informed, did you start CRB proceedings and lodgings then? Or was it only when you realised you'd lost Fernando and therefore needed Oscar that you then started those proceedings? 
OS: So the question was about when did we learn about the Fourth of July signing? It was much later than Fourth of July, number one. And up until that point, it's just conjecture, really. We knew exactly what Oscar had signed with us and we were pursuing that. And that's the reason for pursuing it, up until the point where we got a written notification saying that 'we can't drive for you' and then we started investigating through the CRB.
Q: (Dieter Rencken – Racing News 365) Another question for Otmar, my apologies. Where does the buck stop in this matter? Your table, Laurent Rossi or Luca de Meo? Or your lawyer.
OS: You probably missed it because you came in late, Dieter, but the right thing to do, we learned about this yesterday is to have a retrospective look, as to, you know, what we could have done better and, and do that. But to answer your question about the names you mentioned, you know, Luca does not do day to day stuff at the team. Nowhere near. He sets the big picture objectives and the goals and provides a resource that we need to be able to achieve those goals. And that's his role. Laurent looks after mainly the Alpine brand that we're building and we're doing a good job with. I think we have more demand for cars than we have production capacity. I happen to have the pleasure of driving one from England throughout France and here and I must tell you, Dieter, it's a brilliant car. So that's his role. My role is here with the team, the day-to-day stuff, including negotiating contracts with drivers. I will do that to the best of my ability in the future. I've done it for 25 years already. And I can assure you, this kind of thing, once we have the retrospective look, will be fixed.
Q: (Chris Medland – Racer) Sorry, it's another question for Otmar. But last week, I believe on Sky, you called Oscar's integrity into question around this situation. Having now seen the outcome from the CRB and the submissions – I know you won't talk about what they are to us – but having seen them, do you still call his integrity into question? 
OS: I think I said last week, that even if… because I couldn't really predict the outcome… I think the Germans have a really nice saying that if you're on the high seas, or in front of a judge, you're in God's hands – meaning you can't really predict the outcome. And you can't predict the outcome on the high seas. So that's the analogy. But I said at the time, even if there is a loophole or something that goes against us, we performed on a contract that we thought we had, above and beyond. And the one thing we asked of Oscar in that contract is to be a driver for Alpine, or to be placed somewhere else for '23 and '24 – and that he didn't do.
Q: (Christian Nimmervoll – motorsport.com via Zoom) Otmar in one of those press conferences, you said that when you informed Oscar, about giving out the press release, he was sitting in the sim in Enstone stone, and he smiled, and it was sort-of taken as a confirmation that he's alright with everything. Now Oscar told F1.com in an exclusive interview that was published this morning that his decision was, "made well in advance. And we had told the team that I wasn't going to continue." And he thought the episode in front of other people was: "bizarre and frankly, upsetting. Once we were in private, I told Otmar what our position was, and he had been told multiple times before that." Now that's leaving me a bit confused because only one of the two stories can be true.
OS: So, what's your question?
Q: Well, who told the truth? 
OS: Look, I've never lied to you. And I never will. But what I can tell you is, reiterate what I said before, Oscar was in the simulator. When he finished his simulator session, I went and told him of the release and to congratulate him. And he smiled and said, "Thank You.". Were there a group of people there? I can tell you no, it was myself, the simulator technician, who will happen to be in the same room. But if you've ever seen a simulator, it's a pretty big room as big as it is here. And there are three of us in that room. So, it wasn't a group of people. It wasn't bizarre, and he smiled and said Thank You.
Q: (Matt Coch – speedcafe.com via Zoom) Sorry guys, another one to Otmar. If Oscar was accurate, you had all the info on him, why even enter negotiations with Fernando in the first place? Why not just cut to the chase and chat to Oscar about next year directly rather than worrying about Fernando? 
OS: You have to look at the whole thing in totality and how it happened. Fernando, driving at a good level, even though he's 41 years old, he's still performing. Oscar, I'm sure, will do a good job in the future. So those are the reasons.
Q: (Silvia Renée – Parabrisas) The members of the tribunal said that Piastri is allowed to drive '23 and '24, by the way, and McLaren announced a multi-year contract. Is there a contradiction in there? Or do you expect to have him in '25? 
OS: I apologise because I didn't quite understand the question, but one thing I can't do is speak about what the members of the tribunal said. I really apologise. That, by Schedule Nine of the Concorde Agreement, is confidential. And as much as I'd like to elaborate, you know, once I sign an NDA, with me, that's it. I don't talk.
Q: (Claire Cottingham – Racefans.net) Otmar, I'm going to shock you, it's another question for you. Just a little bit of clarification: you said that you went over to the sim, he smiled at you and you had that conversation. Did you think, at that point, it was maybe important to explain why he was smiling or anything like that? Was there no conversation that was had that was like, 'Well, okay, we're going to race'? Why wasn't that spoken about?
OS: I informed him that the press release was going out and I congratulated him on being an Alpine driver, and he smiled and said, 'thank you' and offered nothing else.
Q: (Adam Cooper – Motorsport.com) A question for Franz this time. I know you're reluctant to speak about drivers but Helmut said yesterday quite clearly that Colton Herta is in the frame and he's interested in him. Speaking theoretically, do you think he deserves a Super Licence? And would you be excited about taking on a top IndyCar driver and bringing them into Formula 1? Obviously, you did it with Bourdais a few years ago, but he obviously had his experience in Europe before.
FT: I don't care which driver Red Bull gives me; it's my job to educate them. That's it, basta, whoever it is. Maybe they will offer you.
Q: But Franz, just to elaborate on Adam's question, would it excite you to bring an IndyCar driver with very little European racing experience?
FT: If he has a good relationship to the right hand pedal, yes.
Q: Can you tell us your thoughts on Colton Herta, just hypothetically, when you've watched him race you…
FT: Don't know him, have never seen him. 
Q: (Scott Mitchell-Malm – The Race) Back to Otmar. When we spoke after the Hungarian Grand Prix weekend and this started to play out you said you couldn't understand why Oscar would want to go to McLaren instead of Alpine. But what's emerged over the last sort of few weeks, it seems that there was a delay in terms of getting an absolutely concrete, binding contract. To Oscar, he had no guarantee of an Alpine drive before 2025 and McLaren were willing to offer him a multi-year deal, with a high likelihood of a '23 race seat but guaranteed for '24. So with all of the information do you understand his desire to leave a bit better, he felt that there wasn't that trust there on the Alpine side and McLaren could give him more of what he wanted?
OS: Without going into the details, I can assure you that what was written in the term sheet, we were delivering on. So, again, we were doing everything we said we were going to do back in November and pursuing all those avenues. So for me, why look elsewhere if what you signed up for was actually happening?
Q: (David Schneider – Hersey Shiga Japan) This is a question for Tost. Considering the driver line-up for next year, do you think that Yuki Tsunoda has leadership qualities?
FT: First of all, Red Bull has to confirm that he is driving for us.
Q: But Franz, just to answer the question, do you think Yuki is ready to lead the team?
FT: If the car is good enough, yes.
Q: (Ronald Vording – Motorsport.com) It's a question to Jost. I guess most people here in the grandstand this weekend are supporting Max, but you've had another Dutch driver in the car this year, Nyck de Vries. Just how do you rate Nick as a racing driver? And is he still among the people you consider for next year? 
JC: I think Nyck did a fantastic job in FP1. And through last year since we work with him he also became a friend. So I have a very good relationship and I believe he deserves to be in Formula 1. If he gets one or not. I don't know.
Q: (Dieter Rencken – Racing News 365) Sorry, Otmar, another one for you. You've had two major driver contracts or wrangles in the last 20 odd years. One was Jenson and one now, the Oscar situation. You were sort of in the thick of both of them. Is that coincidental?
OS: I like the question, Dieter. What's the probability of that happening? It can only happen if you're in Formula 1 for 25 years. Now, the two are totally different situations. I think the Honda one, I was on the winning side, won on grounds of estoppel, and these arguments are totally different.
Q: (Luke Smith – Autosport) Jost, on a bit of a different topic. We've had confirmation of Audi's entry to Formula 1 from 2026 and hopefully we'll see Porsche follow suit soon. You've got good experience from your past career with the VW Group. How much of a coup is it for Formula 1 to get the VW group into the sport at last with at least one, if not two, of its great brands?
JC: For Formula 1 it's a great achievement. And it shows how Formula 1 has grown over the recent years. I think we all see that being involved. But it's great to see that a big OEM like the Volkswagen Group sees that as well and is discussing at least coming in with two of their brands. I think that will give a boost and a thought to other OEMs as well to see if it makes sense to enter Formula 1. But I think it's a great move from the Volkswagen Group.
Q: (Ronald Vording – Motorsport.com). Just to follow up on the Nyck answer you just gave. What are the qualities or the characteristics that have made the best impression on you working with him since last year? 
JC: Nyck is very pushy. He is very focused. And he's very fast. And he knows what he wants.
Q: (Chris Medland – Racer) Again for Otmar, sorry for trying to find a gap. Earlier this year, it was confirmed, you mentioned it yourself, that you were going to allow Oscar to drive for McLaren and Mercedes if needed, on a reserve basis. So I imagine there was a line of communication between those teams and yourselves. Did McLaren inform you of their interest in Oscar beyond that role and moving forward in the future? 
OS: No.
Q: (Luke Smith – Autosport) Otmar, we've had this case with Oscar and last year we saw Zhou Guanyu obviously leave the Alpine ecademy to get a Formula One seat. Looking forward, is there a need for a bit of a rethink in terms of Alpine's approach to juniors? You've got the likes of Jack Doohan and Co coming through, but Alpine has been so set about getting a driver into its Formula 1 team and that's not yet happened with one of its youngsters. 
OS: Yeah, we'll continue to support Jack, who's doing a great job, especially of late. He had a perfect Spa weekend, he is doing well here. And we will continue to support him into the future. And we've got a few other youngsters coming through as well.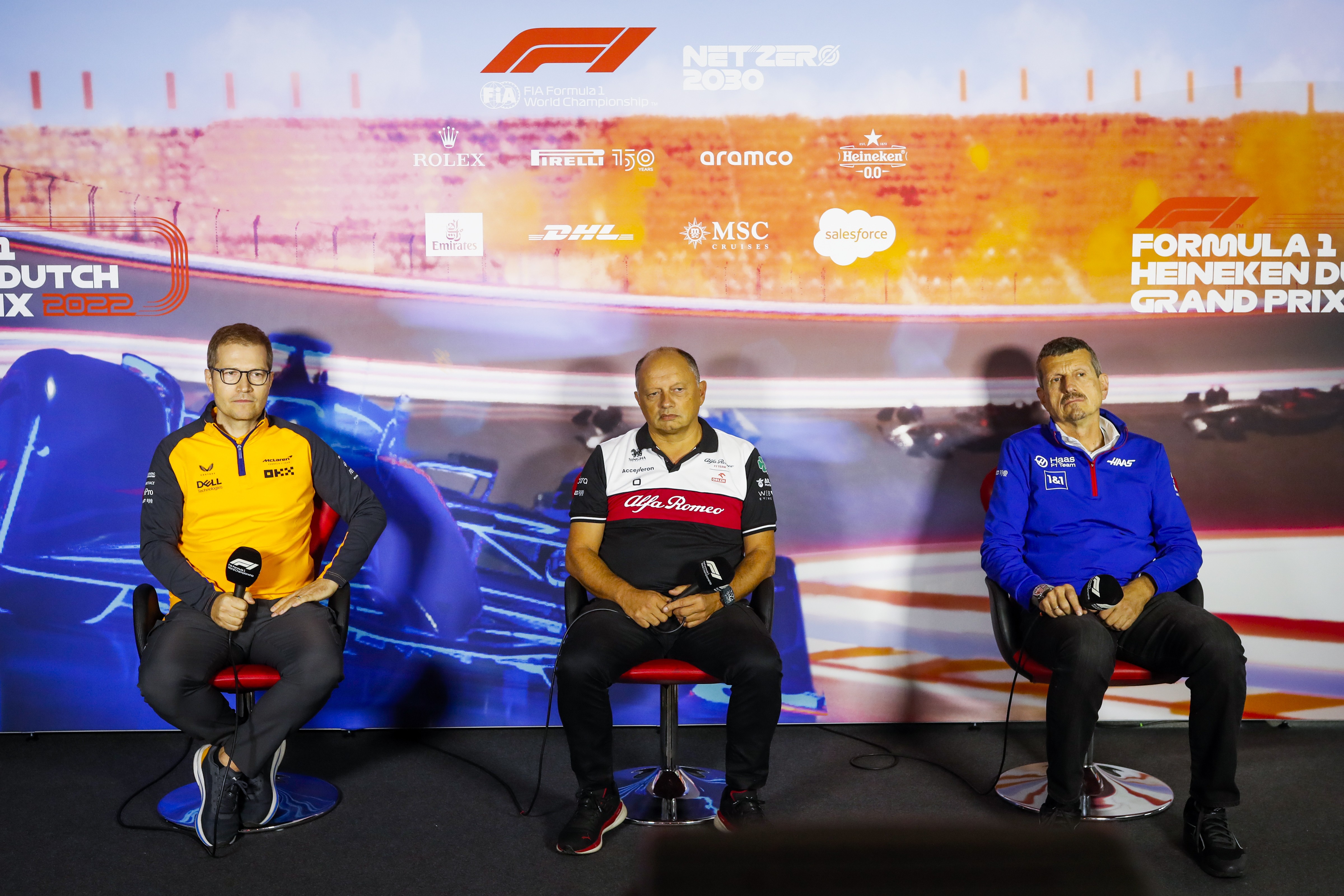 Part Two: Andreas SEIDL (McLaren), Frédéric VASSEUR (Alfa Romeo), Guenther STEINER (Haas) 
Q: Andreas, please can we start with you? Let's start by talking about yesterday. How confident were you that the CRB would rule in your favour?
Andreas SEIDL: To be honest, as I said yesterday, there was not really a case from our point of view. So there's two things you need to have in place in Formula 1 if you want a driver to drive for you, which is a contract, and the registration with the Contract Recognition Board, to confirm that there's not any conflict. We had both in place in July, and therefore, yeah, it wasn't any surprise.
Q: Where does this leave your relationship with Oscar in the short term? Could we see him doing some FP1s this year? Or does his current Alpine contract prevent him from doing that?
AS: I think, as Otmar, said before in the press conference, I think that's something or a discussion Alpine and Oscar have to have next days and weeks probably. From our point of view, it was important to get the news out yesterday that Oscar is with us from '23 onwards. And regarding this year, that's something we will see now in the next days and weeks.
Q: Is Oscar still your reserve driver this weekend?
AS: Yeah, that didn't change anything. We have a resource sharing agreement in place, with Alpine, which we are very thankful for, and that hasn't changed.
Q: Do you worry, Andreas, that this tug of war over Oscar has put extra pressure on his shoulders as he comes into his first season in Formula 1?
AS: No. The reason why I wanted to get Oscar on board is because he has shown in his junior career that he is a very talented driver with a lot of potential. I think also in terms of personality he has everything he needs in order to be successful in Formula 1. He is young, fresh, full of energy. I think he has the right level of self-confidence as well. But at the same time he's very humble and he's fully aware of the big challenge that is ahead of him. We are fully aware of that as well. It is complex for any rookie to join Formula 1. It is not just about driving quickly around the racetracks, there's a lot more involved. But I feel with the team we have in place, with everything Oscar has, that we are in a in a very good place in order to get him well prepared before he starts his first race next year in in Bahrain and I'm quite optimistic that he can first of all have a good start with us and then have a great career in Formula 1.
Q: Clearly, you haven't worked closely with him yet, but in terms of character traits, do you see similarities between Oscar and some of the great drivers that you've worked with in the past? And I'm talking about Robert Kubica or Sebastian Vettel when you were at BMW-Sauber?
AS: Yeah, definitely. I mean, the most important thing is always results on track from these guys, and I think these results speak for himself or speak for itself. But as I said before, the way I got to know him and all the conversations I had with him, I think he has everything he needs in order to be successful in this sport. And that's why we are all really looking forward to getting going with him next year, after we hopefully have a good finish to the season with Daniel and Lando, because that's the main focus now.
Q: Andreas, just one question about this weekend. The car seems better balanced here. Do you feel you are set for a better one than you were at Spa last weekend?
AS: Yeah, definitely. This track, with more downforce, is definitely something which plays more to the strengths of our car. As we have seen, for example, in Hungary before the summer break, after we brought our upgrade, we were in a position to actually be the fourth strongest team. We had a good start yesterday. Both drivers quite quickly got into a good rhythm and hopefully we can carry this momentum forward into today and tomorrow and back to scoring good points with both cars.
Q: Thank you, Andreas. I'm sure there'll be more questions for you later. Fréd, the driver silly season is in full swing at what does Zhou need to do to retain his seat with you next year?
Frédéric VASSEUR: It's not what he has to do until the decision, that it's a long process, that we are doing a good season for the team and Zhou is doing a good job. But as I said before, and as we decided before, that we will take a decision by the end of September and we have to stay calm on this.
Q: What impresses you about Zhou?
FV: I think for a rookie, and as Andreas said before, it's not just a matter of pace, you have a lot of things to learn in F1 and a lot of different pressures than F2 and F3 before and they have to discover this world. And Zhou did it perfectly that he has also a very good collaboration with the team, with everybody. He is very committed and he's doing a good job but the time for the decision will be soon.
Q: OK, let's look further ahead. Can we talk to you about Audi. They announced at Spa that they're coming into Formula 1 as a power unit supplier in 2026. How advanced are talks with regard to them buying Sauber?
FV: No, you don't have to speed up the process. The announcement was about the new engine for '26. I think it's a big, big news for F1 to have another engine supplier and they are focused on this. We are speaking about four years' time and we are not speaking about next week, and step by step we will see what could be the future, but so far the announcement was just about the engine.
Q: Let's talk about the car. No points since Canada for you guys. Do you feel you've been unlucky or do you feel you've slipped back a little bit?
FV: Unlucky, I don't know. We had DNFs but the DNF has nothing to do with luck or bad luck and sometimes it's a technical issue, sometimes it was an engine issue, sometimes it was Latifi, but it is like it is. It's nothing to do with bad luck. Now in terms of pace, I think that we did probably a step down compared to the beginning of the season but we knew perfectly that we don't have the same budget as the top team and we won't be able to develop the car as they are doing. But we are still in the good group to score points. I think in Spa or Budapest we were P8 or P7 in quali and in Spa we were in a good position in quali before to give up the lap. I think we are there but it's so tight between P6, P7 on the grid and P18 that everything can happen and we will have to take the opportunity when the opportunities will be there. It's always the same story.
Q: Thank you for that. Best of luck for the rest of the weekend. Guenther, coming to you now. Let's start by talking about the driver silly season. There's a lot of speculation about your second driver next year. What is the latest from you?
Guenther STEINER: The latest is the same as the latest was last week and two weeks ago. There is no news. We are waiting, we are looking at everything and talking with Mr Haas quite a lot about it. But we have not made a decision. I will not give you a date when the decision is made, because that will be your next question. We will give ourselves time. What we want to make sure of is that we don't make a quick decision and then regret it next year, you know. We want to take the time we have available to try to get the best decision, if it is right or not we will find out only next year, but at least we prepare ourselves to make the best decision. So, no decision has been taken. A lot of people have talked to us. Mick as well is still in the running, because that will be the next question. So, in the end, we just go through the motions and we want to wait a few more races. Also, how Mick is doing. Mick did a very good job in Canada, Austria and Silverstone, you know, and since then the car was not at par, but let's see what we do here, and as I said, we are in no hurry to do anything at the moment.
Q: You say you're not in a hurry, but after recent events in other teams, why haven't you just already signed up Mick?
GS: Because we want to wait to see if that is the best decision for the team to resign Mick. As I said before, he's in the same position as all the other drivers that are on the market. We just want to try to make the best decision for the team's future.
Q: Has he developed as you'd hoped he would this year?
GS: In some circumstances, yes. I said it before: he has done some very good races, you know. The races were very good. I think he impressed everybody. But we need consistency as well and we need to see also how we can take the team forward, you know. We don't want to stay with the status quo. We want to take it forward. That is the aim, that is what we need to do.
Q: And you're looking for a driver with experience to do that?
GS: We don't know yet what you're looking for and this takes time. If we would know what you're looking for we would have made the decision.
Q: Let's talk a little bit about car performance. France, Hungary and Belgium were quite difficult for the team. Do you fully understand the new package and the gains that it's bringing?
GS: Yeah, I think we understand it. We see the gains, we've seen it in the wind tunnel, we see it on track, which is the best you can hope for, because then you cannot go back and compare it. Well, you could, but we don't want to do that. If you see the numbers, the load numbers on track, as we see them in the wind tunnel it is what it is, you know. So I think Spa, these high-speed tracks, they are a little bit of an issue for us, because our package on this load racetracks it's not good, you know. We're working for next year to get something better on the track. But I mean, let's see. Here there are a lot of fast and medium-fast corners, which should suit the car, but yesterday was not fantastic. But we had this year a few, or more than a few races, where in FP1 and FP2 we were really behind and then we came back stronger on Saturday. Let's hope that happens today. But we will find out in a few hours. But nevertheless, I think we are not unhappy. We know we are in the same position as Fred just said before – we didn't develop a lot the car over the year, we jumped pretty early on to next year's car. And therefore I think you fall a little bit back. I don't think we fell a lot back and it's very tight in there, you know, between seven and eight and 18 there is not a lot of space and you do one thing wrong or you get something wrong or you're not on top of it, you are there. You could be a hero or you could also be a zero, you know. So you never know.
QUESTIONS FROM THE FLOOR
Q: (Dieter Rencken – Racing News 365) Andreas, I would imagine that your legal people had a look to see exactly what Oscar had and hadn't signed with the other team. Once you realised that he was effectively a free agent, footloose and fancy free in the paddock and that there was this amount of talent, were you surprised that he didn't actually have a contract attached to him that was valid? 
AS: Again, I don't want to talk about the relationship Oscar had with Alpine. It is my job in the end to propose to Zak and to the board the driver lineup I want to have for the McLaren Formula 1 team. In order to do that, I obviously need to always be fully aware of the contractual situation of each current driver in the paddock and the contractual situation of junior drivers or drivers from other categories. Yeah, and then it was clear that Oscar is a free agent, it was quite straightforward. We wanted to get him on board, he wanted to be with us. We did some talks, we signed a contract. And that's pretty much it. 
Q: (Julie Billiotte – AutoHebdo) Another question to Andreas, although McLaren just had a big victory in signing Oscar, are you not concerned that you might have upset a few people in the paddock even beyond Alpine by setting a dangerous precedent for junior programmes and maybe Fred and Guenther can add their thoughts? 
AS: I think you need to completely separate the different topics. And for me, it doesn't feel like a victory. Oscar was a free agent, that's why we signed him for the reasons I mentioned below. And I don't also think that has any impact on any of the junior programmes that are around. I think it probably needs more a review of which contracts are in place when you have Junior programmes. For example, when I look on our site, Lando was obviously a very hot topic as well some years ago, when there was some interest from other teams as well but in the end he just couldn't leave because we had everything in place we needed in order to make sure we he has to stay with us. In general, I'm a bit surprised about many of the comments that have been made from people that didn't have the insight on what actually happened because if I just think about myself, in cases like that, if I only have a briefing from one of the parties involved, I will be very careful in making comments. And I've seen now that some of you journalists sitting in here as well, despite the confidentiality of the verdict, actually have the verdict. I would just recommend to everyone to read it through in detail and then I guess, we have a clearer picture of what actually happened and I think that speaks for itself.
Q: Fréd, can we just get your thoughts on the  ramifications for junior programmes? 
FV: As I said before that I think that it's very difficult to make any comment for me or even for you on the other side when you don't know about the contract or Oscar with Alpine or Renault, and you don't know about the contract between Oscar and McLaren and we have to stay calm on this. Then on the fact that this could be a bit scary for the F1 team to do a junior programme, I think that okay,  we had the case with Oscar but in the past you had positive stories from Lewis to Vettel and the guy was staying with the team and we have World Champion after this. I'm not sure that it would be a big drama. I don't know what's happened and I don't want to make any comments on this because I'm not aware of that.
Q: (Chris Medland – Racer) Andreas, you had the agreement with Alpine already in place to use Oscar as a reserve this year so I imagine there was a line of communication there with that team. Did you have any discussions with them prior to all this becoming public knowledge to us about your interest in Oscar longer term? 
AS: Without going into too much details and I also have no interest to, let's say, to say anything negative about Alpine, a team for which I have a lot of respect for and the biggest headache this team is giving me because they run in front of us in a constructors championship. I just want to make one thing clear because I want to protect us as a team and also Oscar. Alpine was well in advance before the announcement they made regarding Oscar driving for them next year. Informed by Oscar, including conversations Zak and myself had with the management Alpine of what was going on.
Q: (Luke Smith – Autosport) Fred, a question for you on the driver situation. You said a decision by the end of September, is it fair to assume that any decision Alfa Romeo takes on its driver lineup for next year is independent of any decision and sort of talks about the future of the team with Audi?
FV: No, the decision is 100% in the hands of my shareholders and myself and I would want also to give time to Joe to do more races and before to take any decision but it's… the plan was like this one year ago and we'll stick to the plan.
Q: (Adam Cooper – Motorsport.com) Helmut Marko's made it clear that he's interested in Colton Herta obviously for Alpha Tauri next year. Would you be happy if the FIA used force majeure to get an American a Super Licence to come into Formula 1 or is it important that the point system is totally respected? And for Andreas obviously, he drove your car, how good is he? What's his potential? 
AS: Yeah, first of all, regarding the test he did with us, I think he did a very good test. At the same time, it was only, let's say, the initial test with us and it was also very important, and we were clear with Colton to take his time also in order to build it up. But yeah, it was quite impressive. In terms of Super Licence, yeah, I think in general we believe in the system, we think it's a good system in place but at the same time, we are absolutely up for some flexibility as well, also taking into account especially the situation in the last two years with COVID and everything, it had an impact as well on results drivers could score. And yeah, absolutely open for some flexibility there and handing a guy like Colton the Super Licence, because in the end, with what he has shown so far in his racing career, I have no doubt that he is absolutely able to compete in Formula 1.
FV: From my point of view, it has nothing to do with force majeure, because you have championships everywhere in the world that you were able to score points, if the FIA want to stop the process of the points, and the Super Licence it's another story. But they can do it  and it's up to them to decide if they want to stop the system and we can survive without the system, but nothing to do for me with force majeure.
GS: I will speak more in general. I think we have got rules and regulations which we need to respect. If we don't respect our own rules and try to find ways around it I don't think that's correct. I mean, we could then apply that to other things as well and I'm not speaking in general about rules. It's like, we made them ourselves, if we signed on to them, there is a governance and we need to respect it, you know. Force majeure, coming in or not, it's a discussion point but as Fred said, I think COVID was everywhere. it didn't stop any…  no series to race so I don't know. I'm one of those who says if you've got rules, if we don't respect them and just try to find ways around that why we have rules, then we need to change the rules and that is a different discussion. If you want to change the rule, let's speak about it but that is, again, there's a governance in place. You cannot change rules for tomorrow. It takes some time. So if we think it's wrong… I mean, we had a very similar problem a few years ago, and we didn't find rules around it, we just worked with that and we made the points you know, so that is I think what we have to do in cases like this.
Q: Guenther, you know the American racing scene very well. Do you think IndyCar race winners are ready for Formula 1?
GS: I would say so, there is quite a few drivers there who have got a Super Licence. I think Alexander Rossi and Josef Newgarden, they have got Super Licences you know, and they did that within the rules.
Q: (Scott Mitchell-Malm – The Race) To all three, as a follow-up to that: I  understand your positions on the Super Licence process, in general, if we don't change anything to allow a one off case, would you all be in favour of increasing the number of Super Licence points available to the top finishers in IndyCar because at the moment, someone like Colton – I think he's finished as high as third in the championship in recent years and has finished in the top five, I think, on two other occasions. If we don't change those rules and increase those points, are we not saying that the leading three, four, five guys in IndyCar are worse than guys in Formula 2? 
GS: Yeah,  as I said, we can discuss it if we need to change it. I was not part of it when these rules were made so I don't know on what it was based, why it was picked the point system what it is now, I don't know it and I'm fully open to discuss it. I don't want to be sitting here and saying, 'Oh, an IndyCar race, we know it's as good as this.' You cannot compare it. I think we need to go back. As I said before, if we want to change the rule let's discuss it, you know, and then fix it for the future if you think it's wrong, but there needs to be an agreement between the stakeholders in it.
FV: Yeah, we already had the case in the past that when we change the attribution of the points in F3, GP3 and even F2 a couple of years ago that I think that the global picture of the championship is always changing and moving and we have to adjust the number of points for  every single series now, to know if the top five of the F2  is better than the top five of the Indy won't go on this field and it's not the story that but as Gunther said before, I think that we have a system that if we want to change or if someone has a proposal to change the point attribution, that we can discuss it.
AS:  Yeah, nothing to add really, not from my side, fully supportive on looking into that and adapt the system because I think the IndyCar championship is a high quality, very competitive championship with top drivers and therefore I think there's no reason why we shouldn't make sure that competitive drivers over there cannot switch to Formula 1 straight.
Q: (Chris Medland – Racer) Guenther, you mentioned, I think last week, that your shortlist essentially is any driver with a Super Licence you'll look at as a potential candidate for Haas in the future. If Colton Herta was then to be given a Super Licence, would he come onto your list? Is he a driver that would interest you?
GS: He's not on the list at the moment because he hasn't got the Super Licence, you know, that is the reason why but I said I think we are looking more to somebody who has driven already in Formula 1. We have done the rookie bit last year and in the moment, we look more to somebody who has been already in F1 so maybe, therefore, he didn't make the list and he hasn't got the Super Licence.
Q: (Julien Billiotte – AutoHebdo) Guenther, a follow up to Chris's question: have you had any talks with Daniel Ricciardo regarding your race seat at Haas?
GS: He has got a Super Licence, Fréd just reminds me. No, we didn't have any. I spoke with a lot of people or messaged with a lot of people  and I don't want to name them all here but I didn't want to go into any deep conversations, because then I'm spending my whole day just speaking with potential drivers, because once you start the process it keeps on going, and so we first need to be clear what we want, Julien,  and then I will speak with the people I know.  Obviously in the moment it seems to be… he is on the market. I haven't spoken with him after he announced that he's leaving McLaren at the end of the year. What he's going to do because I think he has to find himself as well what he wants to do in life. So I haven't spoken with him about that.
Q: (Luc Major – Le Matin) Mr Seidl, I would like to remind you of your own words from the July 23 in France:  'we have a contract with Daniel for 2023. There is no doubt on that.' Then one week later in Hungary, 'no need to speculate about Daniel's future with us. We have always been clear on the fact that we have a contract with him.' So now we understand that you signed the contract on July 4, so  obviously you laughed at us. So the question is, how can we give any credit to what you will say from now on?
AS: Yeah, obviously appreciate how you worded the question. Well, first of all I think you all understand that we don't give a live commentary about the internal decisions or conversations we're having. Then, regarding the contract that we signed with Oscar on the fourth of July, also there, it is clear that we don't disclose any details of that contract. And last but not least – and that is the most important for me – as we've said, also last week, when we announced our agreement with Daniel, we always had,  throughout the process or throughout the season, an open and honest and transparent conversation with Daniel of where we are, both together in our partnership but it's also clear that this doesn't mean that Daniel is involved in any of the details or decisions that we make regarding our future driver line-up. 
Q: (Christian Menath – motorsportmagazine.com) Fred and Guenther, talking about the Super Licence again, has there been a case where you didn't sign a driver because of the Super Licence? Would you have taken a different decision in the past because of that?
FV: No but we had discussions last year with Andretti, it's not a secret and if that was on the table, he was not eligible for the Licence at this stage. And then in the past that I don't remember, but probably  if you let me 10 minutes, we'll find some guys who didn't do F1 because they didn't have the Super Licence. Good or bad, I don't know because sometimes that you have to keep in mind that we protect… when we made the decision about the Super Licence and the points it was to protect the F1 and the field and the drivers to avoid to have 10 drivers coming in F1 with big budgets, no results in the past and taking 50% of the grid. The reason of the decision was this one, that we did it on purpose and I think it was a good decision. Now it's another question to see if we have to attribute different points to the IndyCar or the F3 or the F2  and I don't want to make any comparisons, also, because from year to year it's completely different. 
GS: Yeah, we had the situation in 2020 with Nikita, when we spoke about… at the time, it wasn't sure if he finishes in the championship, that he gets enough points for Super Licence and we didn't do anything, we just said to him if you don't get the points, you cannot drive in Formula 1. There was nothing else done like it, it was just like it was on him to finish in a position that he gets enough points to get the points and he did in the end. 
Q: (Dieter Rencken – Racing News 365) Fred, you said earlier on that the Audi announcement was about power units which is fundamentally correct but at the same time Markus Duesmann and said they will enter as a team so obviously there are two choices. One is to buy an existing team or put down 200 million bucks, etc. There are only two obvious candidates for them to purchase. Are you one of them? Have you had discussions with Audi?  When I say you not personally or… 
FV: You have to ask this question last week to Duesmann not to me. 
Q: (Scott Mitchell – The Race)  Andreas, just to come back to something you said earlier when you were talking about Alpine having advanced notice of Oscar's intentions before they did that announcement of him for 2023. I know you said you don't want to speak ill of the other team but McLaren basically kept the Piastri stuff quiet for seven or eight weeks. Are you frustrated, disappointed in any way that this brought that into the public because if they hadn't done that Oscar wouldn't then have been minded to do that tweet denying it and this whole thing would have played out privately which I guess is more what you guys would have wanted? 
AS: Again, I just can speak for ourselves. My job is to run the McLaren Formula 1 team and in the end, we had a clear plan, also in terms of the announcement of the different decisions, that's what we were focusing on. And in the end, our main focus is now to finish this season together with Daniel and Lando as good as possible.  We still want to say in this battle against a stronghold Alpine team for P4 in the constructors championship and then afterwards we switch our focus to next year and that's it.
Ends