With multiple days this week setting—and sitting at—an unofficial global record for high temperature, it's imperative that we ensure our local and global communities, and all the people that make our communities what they are, have the knowledge and resources to plan, respond to, and recover from the impacts of our changing climate.
We've collected a number of helpful resources that go into the relationships between climate change and health, and offer ways people can prepare, adapt, and stay healthy. Read more below!
Washington State Department of Health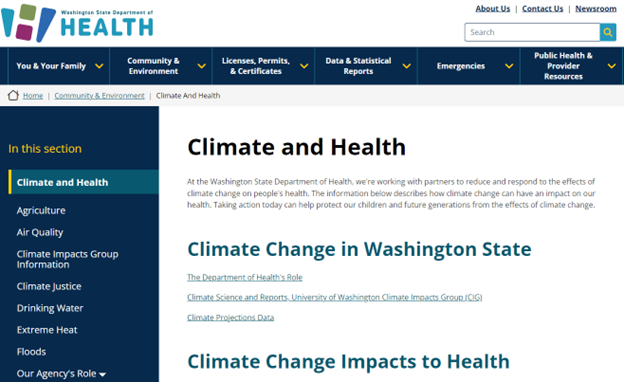 Our state's Department of Health (DOH) provides a wealth of information on their website about the many different areas and ways climate change can impact people's health and wellbeing—including agriculture, air quality, drinking water, extreme heat, floods, and more. Detailed information for each area can take you on a learning journey and there's also information on how you can take action.
---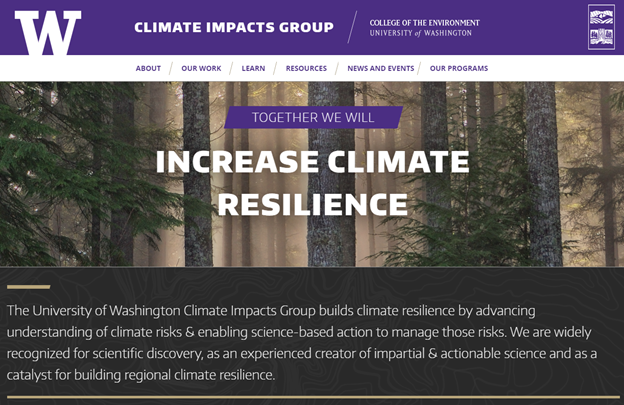 University of Washington's Climate Impacts Group
Offering not only an abundant amount of scientific research and papers on climate change and its impacts, UW's Climate Impacts Group also provides technical resources as well as a searchable database of projects that can help inform communities in their efforts to address impacts from climate change.

Visit the Climate Impacts Group page

---
U.S. Centers for Disease Control and Prevention's Climate & Health Page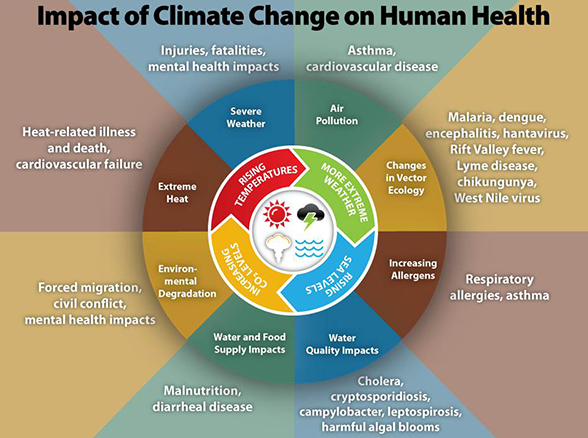 Supporting the agencies that support communities across the country, the CDC's got plenty of information and resources for health officials and community leaders alike, however there are also a few resources that are informative for individuals. In particular, they have a handy downloadable infographic that outlines the impact of climate change on human health as well as the interactive Heat & Health Tracker.

Check Out CDC's Climate & Health Page

---
AirNow – Air Quality Data & Maps
With information covering much of the United States as well as Canada and Mexico, this official U.S. government site offers key insights into local air quality using the Air Quality Index (AQI). With this information, people can make better-informed decisions regarding their health, activities, and potential exposure to unhealthy air.
AirNow also offers the Fire and Smoke Map, which shows data from individual air quality monitors as well as fires detected by satellites or monitored by the U.S. National Interagency Fire Center. This map can provide hyper-local insights into the relationship between wildfires and air quality.
---
King County's Hot Weather Preparedness Page + Stay Safe in the Heat Mini Comic Book
No matter your location, this page from King County has a lot of good info about how to prepare for and navigate hot weather. In particular, the Stay Safe in the Heat mini comic book provides details on what to look out for with heat-related health impacts, how to address them, and ways to stay cool when it does get hot out. The mini comic book is available to download in numerous languages, improving its accessibility to numerous communities.

Go to the Hot Weather Preparedness Page

---
Climate Changes Health Comic
Similar to the Stay Safe in the Heat mini comic book mentioned above, the Climate Health Action Team at Public Health – Seattle & King County published a comic, Climate Changes Health, on their Public Health Insider blog. The comic covers health impacts of climate change and offers ways to make a different in an artful, panel-by-panel layout.

Check Out The Climate Changes Health Comic

---
From heat waves to forest fires to flooding to drought, we are already experiencing the climate crisis here in Washington. It is imperative that we move collectively, proactively, and equitably to mitigate more change, while also adapting our communities for a rapidly changing world—one where the health of both people and nature are impacted by the changing climate. All of these resources, and many more, can help make a difference. It's through the collective action of these organizations and agencies, and countless others, that positive changes are happening. You can learn more about how we here at TNC in Washington are engaging in climate action on our climate page:

Learn How TNC is taking climate action in WA

---
Banner photo of fire camp at fairgrounds outside of Okanogan, WA during the Okanogan Complex Fire in 2015. Photo by John Marshall.