By Lambert Strether of Corrente
Patient Readers, I interrupted my Water Cooler prep to perform an administrative task, hence what you will see at 2:00 will be truncated; more to come. –lambert UPDATE All done!
Bird Song of the Day
Great Bowerbird, Queensland, Australia. "Male near his 5 bowers (1 active, 4 older)." Five! Also lots of ambient noises, including, I swear, an owl.
* * *
Politics
"But what is government itself, but the greatest of all reflections on human nature?" –James Madison, Federalist 51
"Here's food for thought, had Ahab time to think; but Ahab never thinks; he only feels, feels, feels" –Herman Melville, Moby Dick
"You can't really dust for vomit." Nigel Tufnel, This is Spinal Tap
Abortion
Biden Administration
"FACT SHEET: Biden-⁠Harris Administration Announces Public and Private Sector Actions to Strengthen Teaching Profession and Help Schools Fill Vacancies" [The White House]. • Guess what's missing? That's right: School ventilation (in fact, Covid generally).
2022
* * *

AZ: "The Master Key to the Senate" [The American Conservative]. "Monday's message from what looks like a hotel elevator bay is primary Masters through and through. 'I'm declaring war on Joe Biden's dysfunctional affirmative action regime,' he tweeted with the video. 'I don't care if every single employee at the Fed is a black lesbian,' he said, 'as long as they're hired for their competence and not because of what they look like or who they sleep with. News for Joe Biden, we are done with [I hate that "done with" locution] this affirmative action regime.' So far, safe enough, but then, the consultant heart attack: 'I can't think of a single policy since the end of Jim Crow that's been worse or more divisive for race relations in this country. Race quotas are wrong. Gender quotas are wrong. They're unjust. They're illegal. But the Democrats are addicted to this kind of identity politics garbage." More: "Recent reports indicate the Senate Leadership Fund has cut about $8 million in advertising buys from the Arizona Senate race against Democrat incumbent Mark Kelly. Originally slated to kick off after Labor Day, nationally funded ads are now scheduled to start in October, a half-hearted last-month get-out-the-vote push before Arizonans head to the polls…. So the Trump-endorsed Masters has for now been released on his own recognizance. There is an upside to the national party apparently deciding you're too much trouble to help; you can go and do your thing."

PA: "Oz stumbles fuel Democratic hopes in Pennsylvania" [The Hill]. "Recent polling suggests that Fetterman is benefitting from the race's current dynamics, with the nonpartisan Cook Political Report shifting the contest from 'toss-up' to 'lean Democratic.' 'I think it presents an opportunity that nobody envisioned when the calendar turned to '22,' said T.J. Rooney, the former chairman of the Pennsylvania Democratic Party. 'But having said that, there's still a lot of ground to cover.'" • Rooney, despite being a Democrat loyalist, is correct. It's not even Labor Day yet. More: "Recent polls have varied, with an Emerson College poll released on Monday showing Fetterman leading Oz 48 percent to 44 percent, and a separate Franklin and Marshall College poll released last week showing Fetterman leading Oz 76 percent to 62 percent. Fetterman's lead is likely lower than 13 points, with the Real Clear Politics polling average showing him leading Oz by 7.8 points. 'They've got reason to be optimistic, but I wouldn't put Fetterman in office just yet,' said Keith Naughton, a Republican consultant with experience working in Pennsylvania."

PA: Good clean fun:

Eat your veggies 🥦🥦 pic.twitter.com/8DSqw5cRz3

— John Fetterman (@JohnFetterman) August 30, 2022

PA: "Fetterman rejects Oz offer to hold first debate, calls list of 'concessions' insulting" [NBC]. "John Fetterman, the Democratic nominee for an open Senate seat in Pennsylvania, rejected Mehmet Oz's offer to hold their first debate next week, saying the GOP candidate's campaign thinks "it is funny to mock" his recovery from a stroke. 'I'm eager to put my record and my values up against Dr. Oz's any day of the week,' Fetterman, the lieutenant governor, said in a statement Tuesday evening. 'As I recover from this stroke and improve my auditory processing and speech, I look forward to continuing to meet with the people of Pennsylvania.'" • Here are the "concessions" from the Oz campaign:

INBOX: PA debate debate THREAD

"Fetterman can raise a hand and say 'bathroom break!'"

"We will pay for any additional medical personnel…"

Oz campaign released a list of "concessions" they'll make if Fetterman agrees to debate next week. Full list below: pic.twitter.com/wsa6MBOqcD

— Dasha Burns (@DashaBurns) August 31, 2022

Nice people running the Oz campaign, I must say. What will they do next? Kick Fetterman's puppy?

PA: Fetterman on the trail (1):

It's not easy being a Democrat in a very 🔴 county

But rural Dems in places like Mercer County are fired up

Run up the margins in Mercer, and you'll send me to Washington + Dr. Oz back to New Jersey pic.twitter.com/fnM24vbsS1

— John Fetterman (@JohnFetterman) August 29, 2022

PA: Fetterman on the trail (2):

We had a big weekend in rural PA 😎

I can't make it to D.C. without the help of voters in places like Mercer + Venango counties

That's just the truth. 💯 https://t.co/SB9Qg3GsNk

— John Fetterman (@JohnFetterman) August 28, 2022

PA: Fetterman's theory of the case (see the above two tweets):

Every County, Every Vote.

🔴 or 🔵 on a county map doesn't matter. It's the margins that hold the line across all 67 counties.https://t.co/j8sq2a23B1

— John Fetterman (@JohnFetterman) April 7, 2022

I don't expect much from Fetterman or any other Democrat on policy, but the tactic is music to my ears. It's much more important than a made-for-TV debate. Anyhow, Fetterman didn't do too well in his Democrat primary debate, and still won in a walk while stroke-bound. In any case, if the Oz campaign staff is any good at all, they'll have an oppo researcher recording Fetterman's every public appearance, and if he slips a cog, the negative ads will start running the next day. So I don't think much of their eye-poking over the debate; they'll have what they want soon enough, if it is there to be had. Meanwhile, they look like [glassbowls], and for what? Also, Fetterman can't be the only big guy in central PA who stroked out from a poor diet and too much hard work. I would bet people have priced all that in already.
2024
"Poll: Youngkin Job-Approval Rating Hits 55 Percent" [National Review]. "A new poll by Roanoke College shows GOP governor Glenn Youngkin's job-approval rating ticking up to 55 percent in Virginia, while President Biden's job-approval rating is at a dismal 39 percent in a state he carried 54 percent to 44 percent in the 2020 presidential election. The Roanoke poll finds that most voters in the state disapprove of overturning Roe v. Wade, but the decision hasn't hurt the pro-life governor's standing. Youngkin said he'd push for a 15-week limit on abortion in the state, with exceptions for cases of rape, incest, and to protect the life of the mother. But he has also said he'd sign an earlier limit on abortion if it made it through the state legislature." • Presumably Roe v. Wade will be a long-forgotten memory by 2024 anyhow.

"Arrests for Low-Level Crimes Climb Under NYC Mayor Eric Adams" [Bloomberg]. The deck: "Some criminal justice reform advocates worry that the emphasis on "quality of life" enforcement will lead to a new era of mass incarceration." • And this would not be popular with liberal Democrat why?

"Please Shut Up About Liz Cheney or Larry Hogan in 2024" [New York Magazine]. "Look, it's understandable media types are interested in unorthodox pols like these two out-of-the-party-mainstream figures. Cheney is the daughter of a vice-president who used to define truculent conservatism. She rose very quickly to the top tier of House GOP leadership, and she has been an undeniably powerful representative of anti-Trump Republicanism before and during her admirable performance on the January 6 committee. Hogan is the popular two-term Republican governor of a very blue state. But that makes these two strange birds outliers of passing interest, not serious aspirants for the leadership of their party, which is going in a very different direction as quickly as possible. So please stop buying into the notion that the alleged White House aspirations of Cheney and Hogan are newsworthy. There are millions of fine people in this country who would probably like to be president and might do a good job, but just a relative handful who are viable prospects. Let's focus on them instead of promoting those who might be viable if the two major parties were entirely different from what they actually are."

* * *

Olbermann weighs in:

Motherfucking Trump sold the names of our foreign spies and sources, didn't he?

Motherfucking Trump.

"Last year, a top-secret memo sent to every C.I.A. station around the world warned about troubling numbers of informants being captured or killed…" https://t.co/EurLQOsr6C

— Keith Olbermann (@KeithOlbermann) August 27, 2022

For my views on Olbermann's theory of the case, see NC here.
Democrats en Déshabillé
I have moved my standing remarks on the Democrat Party ("the Democrat Party is a rotting corpse that can't bury itself") to a separate, back-dated post, to which I will periodically add material, summarizing the addition here in a "live" Water Cooler. (Hopefully, some Bourdieu.) It turns out that defining the Democrat Party is, in fact, a hard problem. I do think the paragraph that follows is on point all the way back to 2016, if not before:

The Democrat Party is the political expression of the class power of PMC, their base (lucidly explained by Thomas Frank in Listen, Liberal!). ; if the Democrat Party did not exist, the PMC would have to invent it. . ("PMC" modulo "class expatriates," of course.) Second, all the working parts of the Party reinforce each other. Leave aside characterizing the relationships between elements of the Party (ka-ching, but not entirely) those elements comprise a network — a Flex Net? An iron octagon? — of funders, vendors, apparatchiks, electeds, NGOs, and miscellaneous mercenaries, with assets in the press and the intelligence community.

Note, of course, that the class power of the PMC both expresses and is limited by other classes; oligarchs and American gentry (see 'industrial model' of Ferguson, Jorgensen, and Jie) and the working class spring to mind. Suck up, kick down.
* * *
2020 Post Mortem
"Graham argues in new filing that calls to Georgia election officials are protected" [The Hill]. "Sen. Lindsey Graham (R-S.C.) on Wednesday pushed back against a recent filing by the Fulton County, Ga., district attorney that asked a federal judge to support a subpoena against him as part of a probe into former President Trump's push to overturn the 2020 presidential election in the state…. The South Carolina senator's latest filing continues to argue that the call is protected under the Constitution's Speech and Debate Clause, which protects lawmakers from lawsuits and prosecution for things they say and do as part of their legislative work, and it requests the court quash the entire subpoena." • Nah, man.
Obama Legacy
"'Picturing The Obamas' Documentary Framed At Smithsonian Channel" [Deadline]. "A documentary about President Barack and Mrs. Michelle Obama's portraits commissioned by the National Portrait Gallery is being drawn up by Smithsonian Channel. The Paramount Global-owned cabler is launching Picturing the Obamas on September 10 – three days after the unveiling of the White House portraits of the Obamas. The doc will see curators, journalists, and art critics discuss the ways that the pair's portraits disrupted traditional presidential portraiture and spurred museums to reach new audiences. The portraits were unveiled in 2018, captivating the world, becoming an instant social media sensation and bringing record numbers to the National Portrait Gallery in Washington, DC. The Obamas' portraits were created by two Black artists, Kehinde Wiley and Amy Sherald, a first for presidential portraits commissioned for the museum's collection. They doubled annual attendance at the National Portrait Gallery and they went on a national tour last year. The special will include exclusive access as the portraits travel to museums in Chicago, Los Angeles, Atlanta, Houston and Brooklyn. The film examines the legacy of the first Black president and First Lady through the experiences of everyday people. It follows a Latina community organizer, a young artist from Southside Chicago, and multigenerational members of the oldest Black sorority as they visit the portraits and reflect on today." • The meaning? People don't have meanings.
Realignment and Legitimacy
Biden on political violence (1):

.@POTUS: "Think about this now. Even as old as i am, you've ever been to election where we talk about it's appropriate to use force, political violence in America? It's never appropriate." pic.twitter.com/iwzYe01Yfg

— The Hill (@thehill) August 31, 2022

Well, unless you're suppressing Occupy from a DHS fusion center…. Or sending the National Guard to Ferguson… Or putting some poor schlub in a choehold…. Et cetera, et cetera, et cetera.

Biden on political violence (2):

NOW – Biden: "For those brave right-wing Americans… if you want to fight against the country, you need an F-15. You need something little more than a gun." pic.twitter.com/ce3BJEEo7G

— Disclose.tv (@disclosetv) August 30, 2022

Well, that's helpful….

* * *

"Exposing LA County Elections" [Patel Patriot's Devolution Series] • This is a yard diagram, but I don't think drawn too tight. Interestingly, it mentions Everyone Counts, a horrid vendor also used by [drumroll] CalPERS. It also mentions VSAP, but doesn't go into the technical reasons for VSAP's awfulness, as this extensive NC post does. (I should hat tip a reader for this link, but I can't find them. Raise your hand in comments!)

Biden is correct than a real insurrection takes more than cosplay:

A) LOL what kind of war are they training for, a hoplite phalanx?

B) LOL one of the flags is upside down https://t.co/8ZhGXyQQrL

— Noah Smith 🐇🇺🇦 (@Noahpinion) August 30, 2022
#COVID19
Changed by disaster (1): Covid:
Anyone else realizing that as the world returns to "normal" you can't go back? I am not the same person I once was, I have no interest in going back.

— Shay Stewart Bouley (@blackgirlinmain) August 29, 2022
Ditto. It's been wonderfully clarifying!
Changed by disaster (2): Katrina:
On the anniversary of Hurricane Katrina (8/29), I'm reminded of not only the destruction of my home and community, but also that the experience radicalized me. I was 17 at the time. These events below, personally and systemic, shook my worldview.

— Chris Dier (@chrisdier) August 28, 2022
* * *
Sorry for the size of the graphic, but I got a little carried away; this is CDC's description of Rochelle Walensky's plan for a re-org. I've highlighted the especially egregious examples of management consultant-speak — starting with the title, "Moving Forward" — added a red dot before every example of tricolon, and marked the two typos. (Tricolon is important as a marker that the anonymous author of the piece probably cares more about rhetoric than analysis. Typos are important because they mean that the entire process is sloppy, and probably not just at the line-edit level. Typos also show that nobody cared enough to read the piece a second time and fix what was wrong. Institutionally, a very bad sign, like visiting the printer and seeing a beer bottle under the press. More pointedly, none of the troops care about making Walensky look good.) Brilliantly, the piece begins in the passive voice:

I'm sure you can find more, much more! It's also very hard for me to see how the remaining CDC employees would find this reassuring.
* * *
I've been screaming for masks to be made into fashion items like Nike shoes since the pandemic began. Finally:
I'm thrilled to announce that I have been awarded support from @VitalikButerin's Balvi Fund! I'm looking forward to getting to help other folks feel stylish and empowered in an elastomeric mask. Recruitment is starting now. Please see this thread for details (1/4) pic.twitter.com/OjOVXmFu6B

— nic (@nickelpin) August 31, 2022
* * *
If you missed it, here's a post on my queasiness with CDC numbers, especially case count, which I (still) consider most important, despite what Walensky's psychos at CDC who invented "community levels" think. But these are the numbers we have.
* * *
Case Count
Case count for the United States: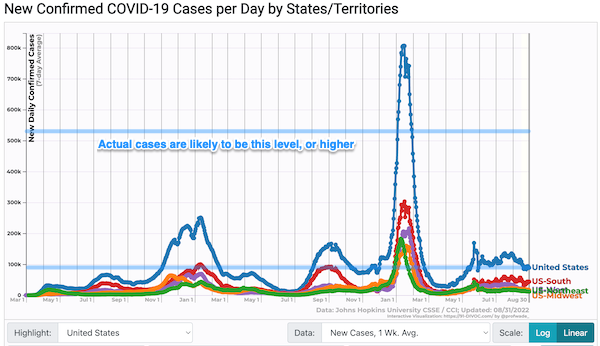 Cases are undercounted, one source saying by a factor of six, Gottlieb thinking we only pick up one in seven or eight.) Hence, I take the nominal case count and multiply it by six to approximate the real level of cases, and draw the DNC-blue "Biden Line" at that point. The previous count was ~88,700. Today, it's ~88,700 and 88,700 * 6 = a Biden line at 532,200 per day. (Remember these data points are weekly averages, so daily fluctuations are smoothed out.) The black "Fauci Line" is a counter to triumphalism, since it compares current levels to past crises. If you look at the Fauci line, you will see that despite the bleating and yammering about Covid being "over," we have only just recently reached the (nominal) case level of November 1, 2021, and we are very far from that of July 1, 2021. And the real level is much worse.
Regional case count for four weeks: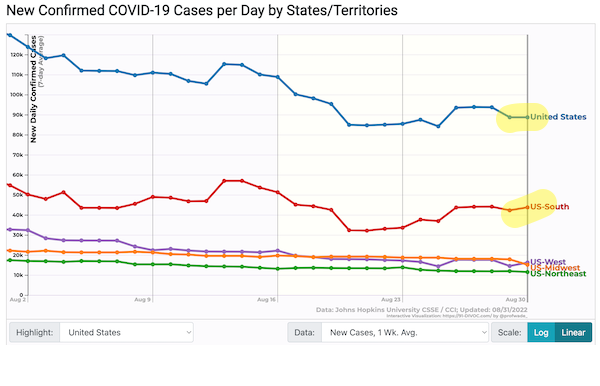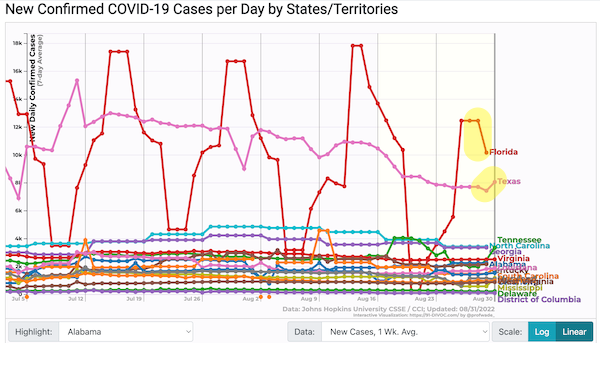 Florida and Texas to resume their dance?
The South (minus Texas and Florida):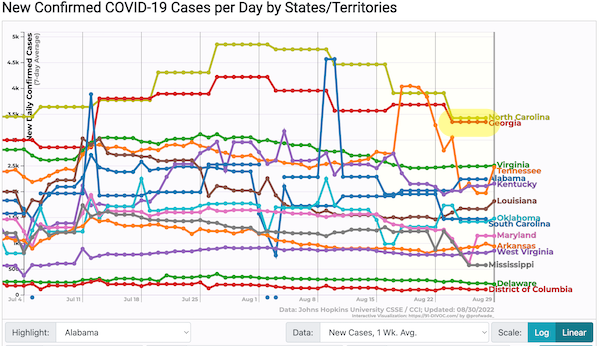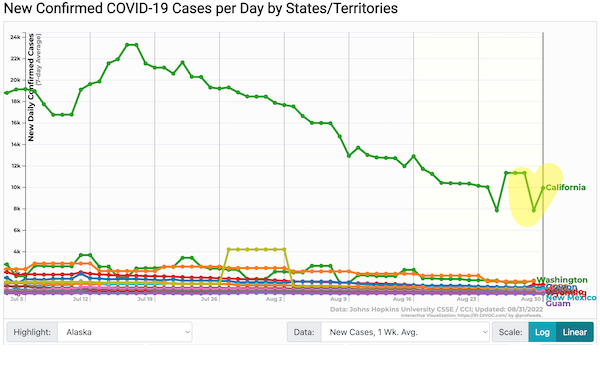 Wastewater
Wastewater data (CDC), August 27: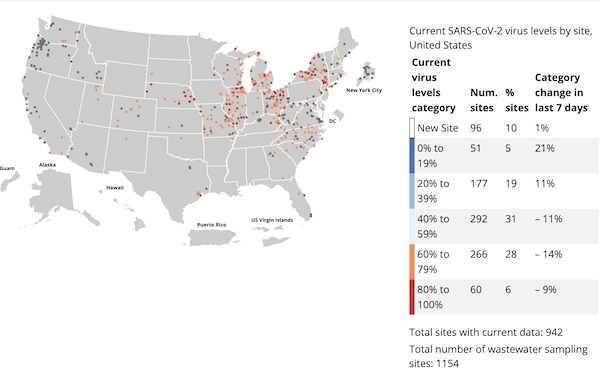 Very unhappy with the grey dots in California, or virtually no dots in Texas and Florida. We have no check on case numbers in critical states.
For grins, August 23: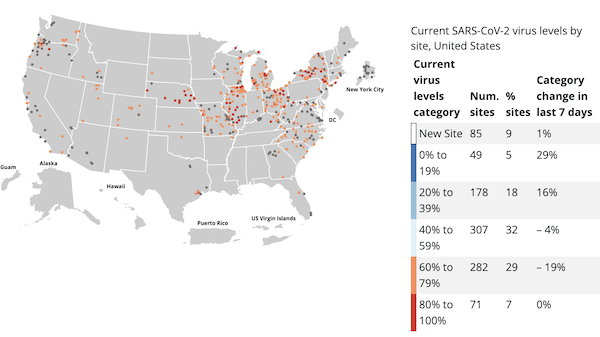 What I'm really worried about is an increase in grey dots ("no recent data"). because that would mean the effort is being shut down or defunded.
• "Surveillance of SARS-CoV-2 in nine neighborhood sewersheds in Detroit Tri-County area, United States: Assessing per capita SARS-CoV-2 estimations and COVID-19 incidence" [Science of the Total Environment]. "The study suggests that monitoring selected water quality parameters or biomarkers, along with RNA concentrations in wastewater, will allow adequate data normalization for spatial comparisons, especially in areas where detailed sanitary sewage flows and contributing populations in the catchment areas are not available. This opens the possibility of using WBE to assess community infections in rural areas or the developing world where the contributing population of a sample could be unknown." • Hmm.
Positivity
From the Walgreen's test positivity tracker, August 30: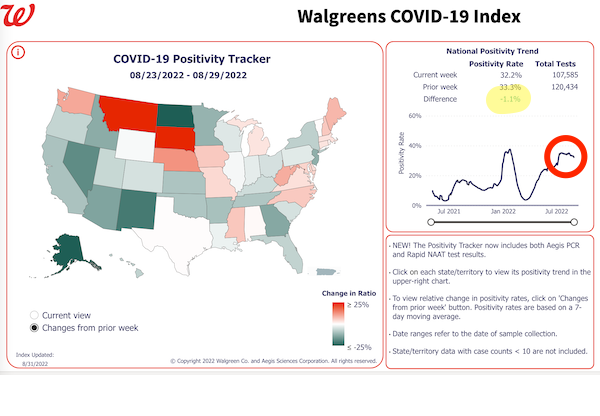 -1.1%. The downward trend inside the red circle is actually encouraging.
Transmission
NOTE: I shall most certainly not be using the CDC's new "Community Level" metric. Because CDC has combined a leading indicator (cases) with a lagging one (hospitalization) their new metric is a poor warning sign of a surge, and a poor way to assess personal risk. In addition, Covid is a disease you don't want to get. Even if you are not hospitalized, you can suffer from Long Covid, vascular issues, and neurological issues. For these reasons, case counts — known to be underestimated, due to home test kits — deserve to stand alone as a number to be tracked, no matter how much the political operatives in CDC leadership would like to obfuscate it. That the "green map" (which Topol calls a "capitulation" and a "deception") is still up and being taken seriously verges on the criminal. Use the community transmission immediately below.
Here is CDC's interactive map by county set to community transmission. (This is the map CDC wants only hospitals to look at, not you.)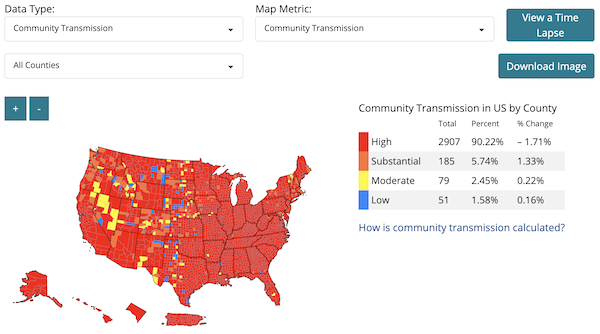 This is actually improving. More yellow in the Plains states and the Mountain states.
Rapid Riser data, by county (CDC), August 30: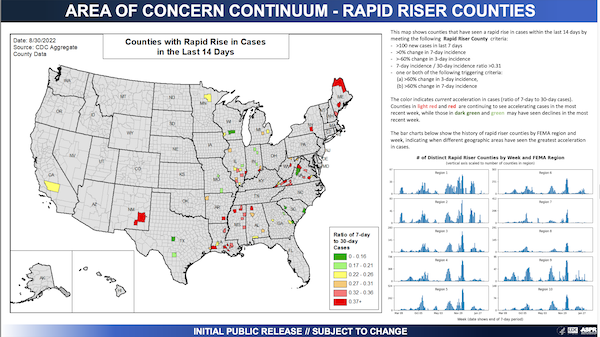 I suppose that if case counts are indeed level, it's likely there would be few rapid risers.
Previous Rapid Riser data: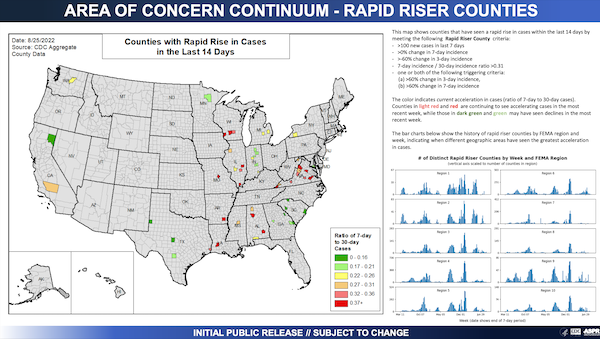 Hospitalization data, by state (CDC), August 30: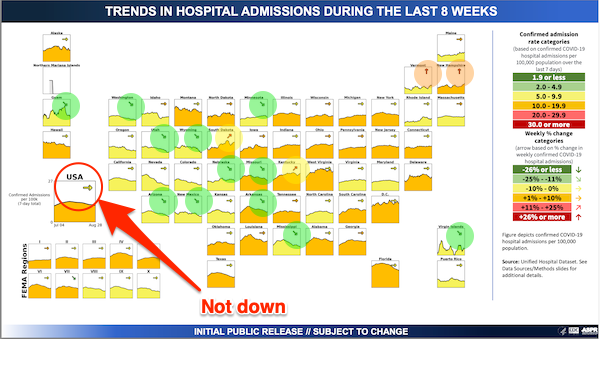 Lots of green, which should make the hospital-centric goons at the Centers for Disease happy. Then again, Light Green is trending down, and Dark Green is straight down. What I would like to see is a lot of Dark Green. But I'm not.
NOTE: Rapid Riser and Hospitalization data are updated Wednesdays and Fridays.
Variants
Lambert here: It's beyond frustrating how slow the variant data is. I looked for more charts: California doesn't to a BA.4/BA.5 breakdown. New York does but it, too, is on a molasses-like two-week cycle. Does nobody in the public health establishment get a promotion for tracking variants? Are there no grants? Is there a single lab that does this work, and everybody gets the results from them? Additional sources from readers welcome [grinds teeth, bangs head on desk].
Lambert here: The last real — i.e., not modeled — data from CDC is August 6. That's such a ginormous derelection I don't even know what to say. Basic disrespect for honest, hardworking Americans trying to make their "personal risk assessments." How on earth are people supposed to do that without variant data? Do the morons at CDC think BA.5 is going to be the last?
NOT UPDATED Variant data, national (Walgreens), August 13: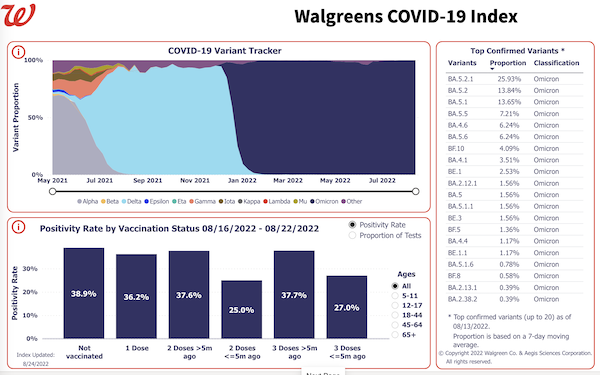 No sign of BA2.75 at Walgreens, despite its success in India and presence in Bay Area wastewater.
NOT UPDATED Variant data, national (CDC), August 6 (Nowcast off):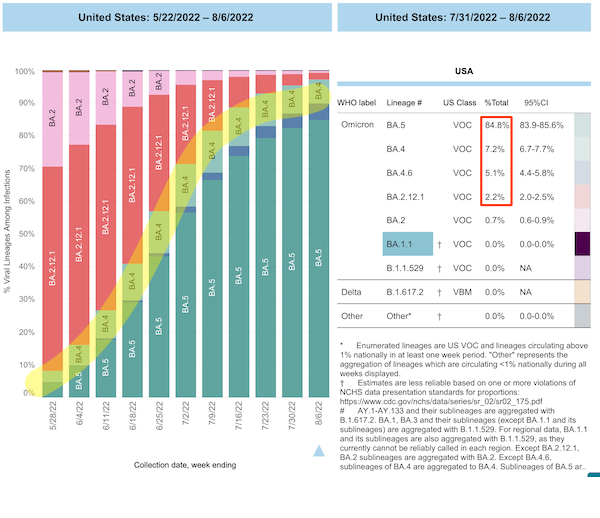 No sign of BA2.75 as yet.
Deaths
Death rate (Our World in Data):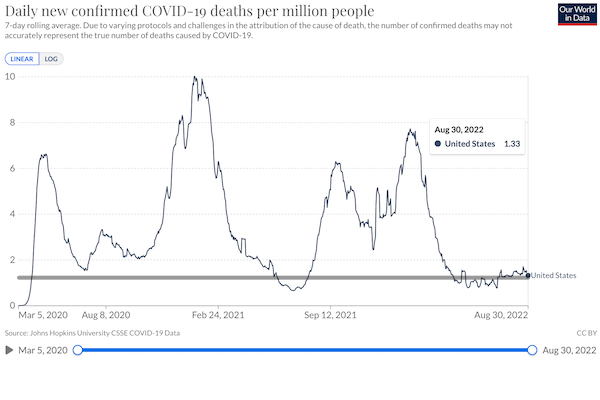 Total: 1,069,748 – 1,069,499 = 249 (249 * 365 = 90,885, which is today's LivingWith™* number (quite a bit higher than the minimizers would like, thought they can talk themselves into anything. Fluctuates quite a bit, but even the low numbers are bad). I have added an anti-triumphalist black Fauci Line. It's nice that for deaths I have a simple, daily chart that just keeps chugging along, unlike everything else CDC and the White House are screwing up or letting go dark, good job.
Stats Watch
Employment Situation: "United States ADP Employment Change" [Trading Economics]. "Private businesses in the United States hired 132K workers in August of 2022, down from 268K in July, the new National Employment Report produced by the ADP Research Institute in collaboration with the Stanford Digital Economy Lab showed. It is the smallest gain since the start of 2021… 'Our data suggests a shift toward a more conservative pace of hiring, possibly as companies try to decipher the economy's conflicting signals. We could be at an inflection point, from super-charged job gains to something more normal', said Nela Richardson, chief economist, ADP."
Manufacturing: "United States Chicago PMI" [Trading Economics]. "The Chicago PMI in the United States was at 52.2 in August of 2022, remaining relatively unchanged from the 23-month low of 52.1 hit in the prior month and broadly in line with market estimates of 52."
* * *
The Bezzle; "Tesla faces Autopilot lawsuit alleging phantom braking" [The Register]. "A lawsuit filed against Tesla this month accuses the automaker of covering up an alleged malfunction that makes vehicles stop for nonexistent objects, sometimes in the middle of traffic, while in Autopilot mode. The class-action-seeking suit [PDF], which was filed in federal court in northern California, accuses Tesla of fraud, breach of warranty, violation of the Magnuson-Moss Warranty Act, disregard for Cali's deceptive trade practices laws, and unjust enrichment. 'The problem is that Tesla is rushing these features to market when the technology is not yet ready and not yet safe. That is what this case is about,' attorneys for 2021 Tesla Model 3 owner Alvarez Toledo, the California-based plaintiff looking to represent the class, alleged in the filing." • Move fast and break things…
Tech: "How 1-Time Passcodes Became a Corporate Liability" [Krebs on Security]. "A recent spate of SMS phishing attacks from one cybercriminal group has spawned a flurry of breach disclosures from affected companies, which are all struggling to combat the same lingering security threat: The ability of scammers to interact directly with employees through their mobile devices…. In mid-June 2022, a flood of SMS phishing messages began targeting employees at commercial staffing firms that provide customer support and outsourcing to thousands of companies. The missives asked users to click a link and log in at a phishing page that mimicked their employer's Okta authentication page. Those who submitted credentials were then prompted to provide the one-time password needed for multi-factor authentication. The phishers behind this scheme used newly-registered domains that often included the name of the target company, and sent text messages urging employees to click on links to these domains to view information about a pending change in their work schedule." • But then who needs phishing when there are apps:
Charlotte,
Sorry I am late to this.
Regarding them using your PIN number.
Did you know that you can get a PIN reminder in the Santander app.

If they by-passed your security, the app itself will show them your PIN

It's under "More" then "Manage your cards"

— Peter (@PeterDbrash) August 29, 2022
* * *
Today's Fear & Greed Index: 48 Neutral (previous close: 49 Neutral) [CNN]. One week ago: 57 (Greed). (0 is Extreme Fear; 100 is Extreme Greed). Last updated Aug 31 at 3:05 PM EDT.
Sports Desk
"Federal Lawsuit Filed Over Arrests of Five Midland Christian School Educators" [The Roys Report]. • Not a sex scandal. They messed with the local football team, and the cops didn't like it.
Class Warfare
The labor market's not what it was, champ:
The only response oughta be "If the company wishes to maintain control over my vehicle, the company must provide a vehicle." https://t.co/s5S8sP5hbL

— Lee 🖖 Carter (@carterforva) August 29, 2022
News of the Wired
A cheerful thought:
Maybe one of the symptoms of covid is that it switches off part of the brain so that no one cares about it anymore and it can keep spreading.

— Occupy Centrelink (@OccupyMyGov) August 30, 2022
"Iowa town asks: Where did we put our time capsule?" [Associated Press]. "The small northwest Iowa city of Sheldon planned to make the opening of a time capsule one of the centerpiece events of its 150th anniversary this weekend, but it ran into a slight problem. No one is sure where the time capsule is buried. The other events will go on as planned, with the time capsule unveiling delayed until workers can find it. To do that, the city will hire a company with an underground radar system that helped the nearby city of Sibley find its time capsule earlier this year." • I really love it tht there's a business model for recovering lost time capsules!
* * *
Contact information for plants: Readers, feel free to contact me at lambert [UNDERSCORE] strether [DOT] corrente [AT] yahoo [DOT] com, to (a) find out how to send me a check if you are allergic to PayPal and (b) to find out how to send me images of plants. Vegetables are fine! Fungi and coral are deemed to be honorary plants! If you want your handle to appear as a credit, please place it at the start of your mail in parentheses: (thus). Otherwise, I will anonymize by using your initials. See the previous Water Cooler (with plant) here. From RM: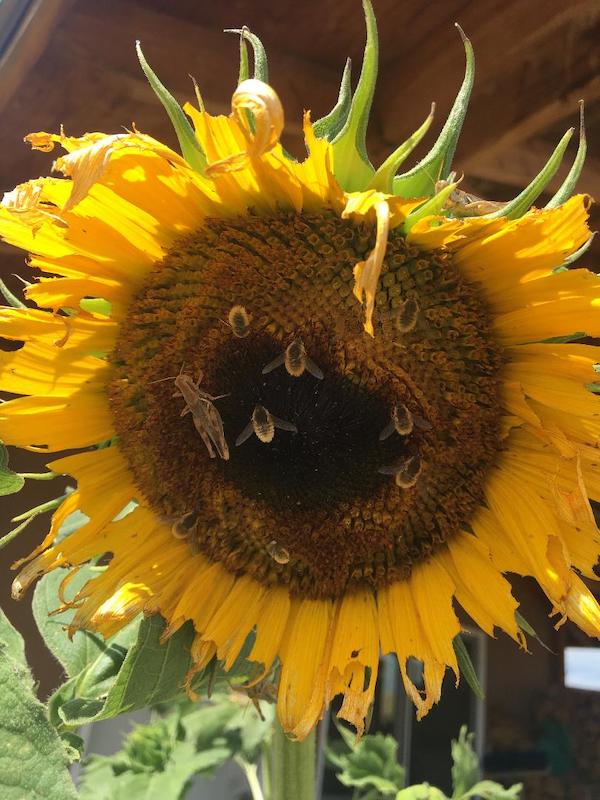 RM writes: "The grasshoppers have been rather vicious this year but the bees don't mind them eating the leaves but don't really care to dine with them on the sweets." I've taken the bee + sunflower photo myself — but not this one!
* * *
Readers: Water Cooler is a standalone entity not covered by the annual NC fundraiser. So if you see a link you especially like, or an item you wouldn't see anywhere else, please do not hesitate to express your appreciation in tangible form. Remember, a tip jar is for tipping! Regular positive feedback both makes me feel good and lets me know I'm on the right track with coverage. When I get no donations for five or ten days I get worried. More tangibly, a constant trickle of donations helps me with expenses, and I factor in that trickle when setting fundraising goals:
Here is the screen that will appear, which I have helpfully annotated: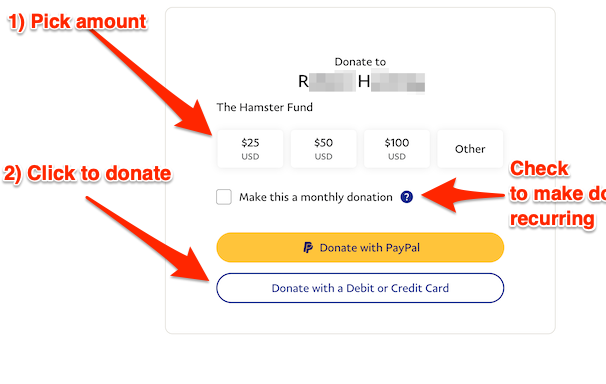 If you hate PayPal, you can email me at lambert [UNDERSCORE] strether [DOT] corrente [AT] yahoo [DOT] com, and I will give you directions on how to send a check. Thank you!